Customsmen at the Malam Aminu Kano International Airport, MAKIA, Kano, North-West Nigeria this afternoon impounded about 190 pairs of military uniforms smuggled into the country on an aircraft marked 0573 from Beirut.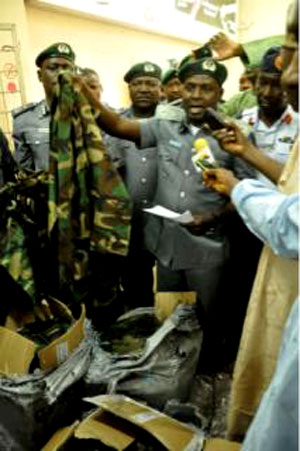 Two suspects identified by security agents as Imam and Bashir were arrested in connection with the smuggled military uniforms.
P.M. NEWS also learnt that other items belonging to the military, including dozens of bullet proof vests were found inside the aircraft.
The army uniforms were neatly concealed inside eight cartons, but luck ran out on the owners when the Customs men on duty at the airport insisted on seeing the contents of the cartons.
Bashir had flown into MAKIA from Egypt to clear the concealed consignment but was quizzed and arrested by security personnel at the airport who were working on the theory that the goods were smuggled in for illegal motives.
Though efforts made to speak to the suspects were proved abortive, securitymen at the airport said they were not leaving any stone unturned to ensure that they get to the root of the matter.
According to Customs Area Comptroller in charge of Kano, Alhaji Usman Sanusi Azare both suspects are Nigerians, adding that thorough investigations would commence into the case so as to uncover their sponsors and their reason for bringing in the army uniforms.
"The most interesting thing about these goods is that they are coming in at a particular time when our nascent democracy is being tested to the limit and we in custom and other agencies working with us will continue to keep vigil on any item that comes through this airport," he stated.
By Maduabuchi Nmeribeh/Kano

Load more