It has been peaceful so far in Abuja, the Federal capital of Nigeria, Lagos, Ogun State and Katsina. But turn out of voters was not as impressive as the one witnessed 2 April when poll was suspended by the Independent National Electoral Commission.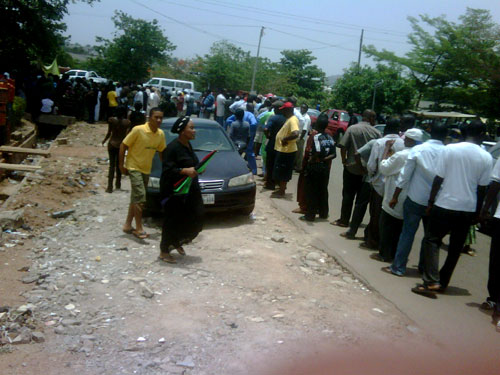 Accreditation started in most polling units around Abeokuta at 8.30am. In Moba and Alagunta polling units in Eti-Osa council area, accreditation went on smoothly, even much better than last week, officials said. There were no queues at polling centers as voters had retired to their homes, to return to vote by noon.
In some of the polling stations visited in the Ogun state capital, Abeokuta, accreditation was being done without much fuss. This was the situation at Ibara, Panseke,M.k.o Abiola Way, Odegbami Way, Olorunsogo area, Orita Merin, Obantoko, all within the Abeokuta metropolis.
Accreditation started 8.30am. Even though some of the electoral officials arrived as early as 8am, accreditation started 30 minutes later.
One observation though is that voters did not troop out as they did last Saturday. Few people were seen queuing for accreditation at the units. At Moshood Abiola Way polling unit, only 25 people have been accredited as at 9.45am. At the Odegbami Way polling unit only 15 people have been accredited as at 9.30am. Turn out in most of the polling units visited as at 10am was poor. Security was generally tight as soldiers and mobile policemen mounted roadblocks around the city. It was also observed that unlike what obtained last Saturday many people did not observe the stay at home order.
In ijebu Ode, Atan, Ijebu Igbo, low turn out was witnessed. People generally went about their business without observing the police order on restrictions of movement. The PDP deputy governorship candidate, Tunde Oladunjoye said the postponement of the election has compounded the problem.
In Katsina, accreditation started in most polling units as early as 8.17 a.m. At Nafada polling unit in the Sabo Kasuwa area, two women could not however find their names on the register. The two women, usman Hafsat, 33 and Iliya Binta, 40, said they registered at the units.
In Suleija, Niger state TheNEWS/PMNEWS cameraman, Femi Ipaye, had his camera seized by overzealous policemen guarding the bombed office of INEC.
His camera was however returned after some interventions by some officials of the INEC.
Reported by Felix Nnamdi,Katsina; Lanre Babalola/Abeokuta, Biodun Onafuye/ ijebu ode