A candle light procession and service of songs was organized in honour of late actor, Ashley Chijioke Nwosu, 57, at the Ojez Restaurant and Bar, National Stadium, Surulere, Lagos on Thursday last week.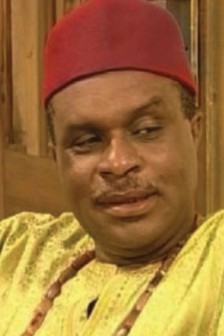 The event, which commenced at about 6:45 P.M, paraded the who-is-who in the movie industry. *Actor Arinze Okonkwo actually wowed his colleagues by leading the AGN choir with the praise and worship session. His performance as the lead vocalist of the choir group was spectacular indeed, as everybody danced as if it was a normal church service.
*Kanayo. O. Kanayo was one of the early callers at the venue of the event. He also read the first scripture of the event. While eulogizing the late Ashley Nwosu, star actress, Patience Ozokwor, assisted him in locating the Bible verse, Ecclesiastes 3:1-11.
*Controversial actor, Ernest Asuzu really was one of the men that made the service of songs lively. He was everywhere, posing in front of cameras. At a time, he turned himself into a bouncer, protecting Segun Arinze and a couple of other stars.
*Those in attendance will hardly know that John Okafor, popularly known as Mr. Ibu was around. He actually kept to himself at one corner of the open-space venue. He only stood up was when Segun Arinze called on all the popular actors to come and light their candles in honour of the late Ashley.
Perhaps, Mr. Ibu is still in shock over the kidnap of his wife and kid some months back.
*When the arrival of baritone-voiced actor, Hanks Anuku was announced, it was greeted by cheers from virtually everybody in attendance. Hanks, who wore all-white attire, went on the podium to express his sympathy to the family of Ashley. *Genevieve Nnaji came a bit late, and when she was guided to her seat behind Segun Arinze by some hefty AGN members, she was seen discussing with Uche Jombo, who sat beside her all through.
*Like Romeo and Juliet, the National President of AGN, Segun Arinze, was beside his beautiful wife through out the event. However, during his speech, he called for peace and unity among all actors.
The late Ashley Nwosu will be buried in his hometown, Abia State, next weekend. He died on 21 April at the Military Hospital, Yaba-Lagos. He had earlier been in coma for several hours before he eventually died of the liver ailment he had been battling.
He was born on 21 November, 1954 at Umugu-Oboro to late Pa Francis Ibeabudi Nwosu of Elu-Elu, Umuezeukwu in Ikwano LGA of Abia State and Ezinne Victoria Nwosu of Eziuga Ndorn-Aboro. He was the fourth child in a family of seven children.
He attended Umuigu Central Primary School and Oboro Secondary School. He later gained admission to the University of Nigeria, Nssuka where he studied Zoology.
In 1985, he met and married his wife, Grace Ibiene. The marriage is blessed with five kids; four girls and one boy, who died at a tender age.
Ashley Nwosu started his career in 1988 with the NTA in a series titled Tele-movies and joined Nollywood in 1990.
He later became a producer and premiered his first movie, Shield of Faith at the Silverbird Galleria on 12 December, 2010.
—Bayo Adetu