Following the death of Nigeria's Lady of Songs, Chief (Mrs.) Christy Essien-Igbokwe, friends, family members, fans and sympathisers this morning besieged the family house at 43, Talabi Street, off Adeniji Jones, Ikeja, Lagos, Southwest Nigeria.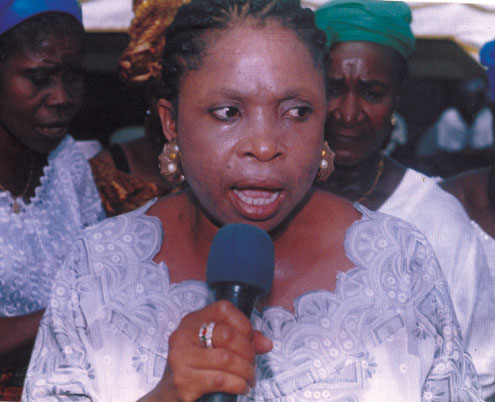 Igbokwe died yesterday morning after a brief illness. She was said to have fallen sick on Monday and was rushed to an undisclosed hospital where she died.
Sympathisers called in droves this morning to confirm and sympathise with the family over the death of the popular musician.
Her husband, Chief Edwin Igbokwe, who was still in a state of shock, was around this morning receiving visitors in the company of family members outside the house.
Some of the early callers this morning were former president of Performing Musicians Association of Nigeria, PMAN, Admiral Dele Abiodun, Fred Agbaje, Emma Ogosi, Idowu Blessing and other notable artistes.
A condolence register has been opened in front of the house. As at 10 a.m. today, more than 30 persons had signed the register.
In the register, a mourner called Omukoro simply wrote: "She was a nice woman."
Emma Ogosi, a musician, wrote: "It is well."
Another sympathiser, Oluremi Oludara wrote: "Mummy, you were a super and caring woman."
A resident called Patrick wrote: "We have lost a gem."
Admiral Dele Abiodun who arrived Christy Essien's residence as early as 8 a.m. said he was still in shock and could not comment more for now.
In a telephone chat, Laolu Akins said he was shocked and could not believe that Christy has suddenly passed on.
Laolu Akins, who is the late Lady of Songs' producer, described her as "a woman of immense talent and courage."
Stella Monye said: "Oh God! That taketh Christy my heart sobs."
Three of her four children, Obiora, Chinwuba a.k.a. Kaka, a musician and Lucky, the last born and baby of the house, described Christy as a very spiritual and reserved mother who actually had a premonition of her death.
Obiora said: "She had told me jokingly that she will just spend half a century on earth."
As at the time of filing this report, sympathizers were still trooping into the home of the Igbokwes to commiserate with them on the death of Christy.
The singer and actress, who was also known as Apeno, her character in the New Masquerade, a now rested 13-week drama episode on the Nigeria Television Authority, NTA Network. She was the wife of the late Claude Eke, who played the role of Prince Jegede Sokoya in the soap opera.
Her albums include: Ever Like My Person, Omo mi seun rere, Ife, Mo loro iso and others.
She was the first and the only lady president of PMAN, whose tenure could be described as the golden age of PMAN. She organised the Black Entertainment Award in Abuja during her tenure as PMAN leader.
Lady of Songs and former President of Performing Musicians Association of Nigeria, PMAN, Chief (Mrs.) Christy Essien-Igbokwe is dead.
Born in Onna, Akwa Ibom State on 11 November 1960, Igbokwe, until her demise, was the first female President of PMAN and ran her private enterprise, Soul Train Entertainment Limited as Chairman and Managing Director.
She has been honoured with various awards worldwide including the Nigerian Lady of Songs Award, International Special Achievement Award in Mexico (1983), Africa Music Mother Award (1984), World Song Festival Award in Los Angeles, Queen of Music International Award, Association of Theatre Arts Practitioners (1996).
She has also contributed enormously to nation building, peace and tolerance, which, alongside moral uprightness, remain constant themes of her songs.
—Ayodele Lawal

Load more