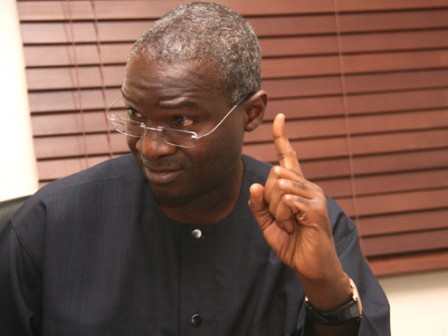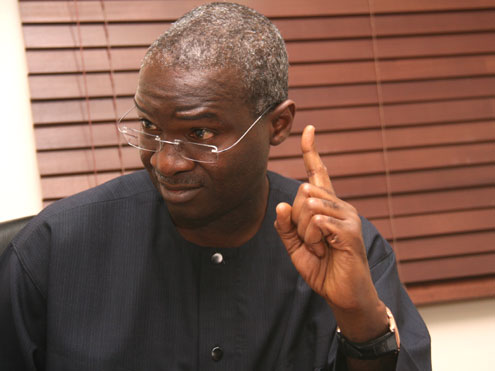 Amid pomp and ceremony, Governor Babatunde Fashola of Lagos State formally inaugurated his 37-member cabinet today.
Those sworn-in at Alausa, Ikeja, Lagos, Southwest Nigeria, included commissioners and special advisers.
Dignitaries who witnessed the occasion were former governor of the state, Asiwaju Bola Ahmed Tinubu, deputy governor, Adejoke Orelope-Adefulire, ACN stalwarts, House of Representatives members, traditional rulers, among others.
The 37-member cabinet comprises 21 commissioners and 16 special advisers who were screened by the State House of Assembly last week.
Speaking at the occasion, Fashola said the commissioners and special advisers were the privileged few to be chosen among the lot and that the hope of Lagos State residents depended on them.
"You have been chosen to hold one of the most sought after offices in our country today. I advise you to quickly set forth to very diligently work to earn and justify your place in the Lagos State Executive Council.
"The expectation of our people is very high. It is understandably so. They have seen lives improve year after year from 1999 to 2011 and they will not settle for anything less," he said.
"This new team must resist the temptation to dwell on any successes of the last team. We must see whatever they achieved as challenges to us to do better. That is the only way we can reward and appreciate their sacrifices and service.
"We must challenge ourselves to exceed their achievements even if the circumstances may be different. That team thrived on a few qualities. They brought integrity into public service that made it attractive for the private sector," he added.
Fashola warned that "if anyone of you come here with the quest for just a status or an office, you are in the wrong place. If you are here looking for an easy job, the Lagos State Government does not offer one.
"Our days will be as long as our nights. Our task is enormous. We are the repositories of a mandate won by the Action Congress of Nigeria in an election that was vigorously contested and valiantly won."
The governor urged the new cabinet members to be modest in their actions, moderate in their public appearances and shun all sense of ostentation and waste that could be suggestive of insensitivity on their part.
According to him, "our public conduct must at all times be a strong restatement of our connection with our people and our understanding of the realities they have to live with.
"History beckons upon us now to show leadership for our state, country and our continent; let us proceed proudly to engage with history and fulfil the promise that this state of Lagos holds for our country and our continent."
The new Commissioners are: Mr. Abiru Adetokunbo, Finance; Mr. Ahmed Wale, Special Duties; Mr Akabueze Benjamin, Economic Planning and Budget; Mr Ayinde Olutoyin, Physical Planning and Urban Development; Mr Bello Tunji, Environment; Mr Danmole Oyinlomo, Home Affairs and Culture; Mr Hamzat Obafemi, Works and Infrastructure; Mr Holloway Oladisun, Tourism; Mr Idris Jide, Health; Mr. Ipaye Ade, Attorney General and Commissioner for Justice.
Others are Mr Ibirogba Aderemi, Information and Strategy; Mr. Jeje Bosun, Housing; Mr Kuye Ademorin, Local Government and Chieftaincy Affairs; Mr Lawal Gbolahan, Agriculture and Cooperatives; Mr. Adebiyi Mabadeje, Science and Technology; Mrs Oguntuase Florence, Establishment and Training; Mr Ojelabi Cornelius, Rural Development; Mr Oniru Adesegun, Waterfront Development and Infrastructure; Mr Opeifa Kayode, Transport; Mr Oshodi Enitan, Youth Sports and Social Development; Mrs Oworu Senakpon, Commerce, among others.
The new executive members thanked the governor for their appointment and promised not to let the state down as they would work assiduously to move the state to greater heights and prepare it to cope with the challenges of a mega city.
— Kazeem Ugbodaga