Nobel Laureate, Prof. Wole Soyinka has called on President Goodluck Jonathan to urgently eliminate the threat posed by the dreaded Islamic sect, Boko Haram.
Soyinka spoke at the 13th anniversary of the death of the winner of the 12 June 1992 presidential election, Moshood Abiola at his residence of Toyin Street, Ikeja, Lagos, Southwest Nigeria today.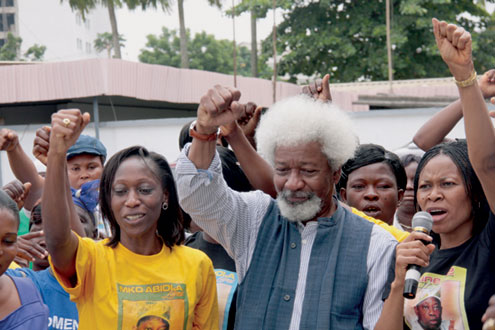 He said the Boko Haram issue was both socio-economic and security issue and that neither side should be downplayed.
"There is a tendency to downplay one side for the other but we cannot neglect the two. However, the pre-eminence is security and the security arm must wake up to their responsibility and reduce drastically or eliminate this threat to all of us, he stated.
Soyinka also called on Jonathan to as a matter of urgency immortalise Abiola by naming the Abuja National Stadium after him.
He stated that Abiola, in his lifetime was named Pillar of Sports in Africa and that naming the stadium after him would erase the shame from us. Soyinka further said that the picture of Abiola must be placed alongside past presidents of the nation and recognised as such.
He added that if Earnest Sonekan could be named interim president even when he was not elected, he saw no reason why Abiola, who was popularly elected by all should not be recognised as a past president.
He also lamented that all the people who ensured that Abiola's mandate was nullified such as David Mark were still in office and calling the shots in the nation.
According to him, even more painful was the refusal of former president, Olusegun Obasanjo to immortalise Abiola and even had his name mentioned all through his tenure as president.
President, Campaign for Democracy, Dr. Joe Okei-Odumakin called for a posthumous declaration of Abiola as president as well as place his picture side by side with past leaders of the nation.
Okei-Odumakin, whose group organised the event, said Abiola was killed for refusing to abandon his mandate, while raining curses on those responsible for his death, saying that they will remain unsung after their death.
"The befitting thing we can do for him now is to imbibe the virtue of transparency that he stood for by shunning corruption.
"We also demand a de-annulment of the June 12 presidential election and want Abiola to be declared past president of Nigeria," she added.

Load more