Over 50 repentant Militant 'Ex –Generals' and Commanders led by Soboma Jakrich, aka General Egberipapa, a former leader of the Movement of the Emancipation of the Niger Delta, MEND, today stormed the corporate headquarters of the Niger Delta Development Commission, NDDC, along Port Harcourt/Aba Expressway in Port Harcourt.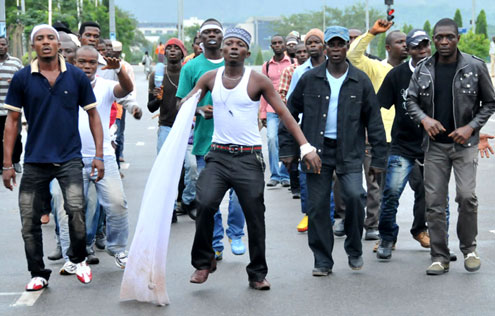 The spokesman for the militant leaders, 'General' Egberipapa, said they came to NDDC to dissociate the Generals and Commanders from all allegations made by some national dailies that the ex-militant leaders plan to kidnap and assassinate Chibuzor Ugwuoha, the Managing Director of NDDC, because of their grudge against his management for sidelining them in the award of contracts.
General Egberipapa, who was intermittently interrupted by the ex-militants commanders with the rendering of war songs, said: "We decided to come in person. We came for peace. We have surrendered our weapons and prefer dialogue. We want to meet with the Managing Director and the management team to have discussions and present our feelings to them because we want patronage in the award of contracts. We seek for cordial relationship, not friction."
Dr. Felix Tuodolo, the Special Adviser to the Managing Director and the first former President-General of Ijaw Youth Council, IYC, who received them on behalf of the Managing Director assured that the NDDC management appreciates their role in ensuring peace in the region and would not marginalise them.
The ex-militant militant leaders later went into closed door meeting with the Managing Director and management team.
—Okafor Ofiebor/ Port Harcourt

Load more