Football stakeholders in the country have tasked the new Sports Minister, Yusuf Suleiman to focus more on development of sports in Nigeria.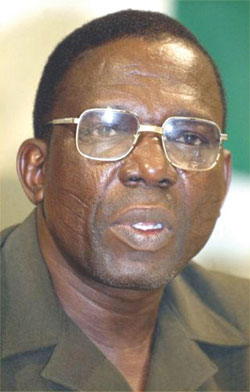 Before his appointment as Sports Minister, Suleiman was the Transports Minister in the last dispensation.
The challenges before Suleiman are too enormous for him to tackle alone. He needs the support of stakeholders in industry.
However, some of the stakeholders believe that the Sokoto- born politician will need to change some admistrators in the National Sports Commission, NSC, before he can make a significant changes in the sports ministry
Former Nigerian player, Etim Esin, advised the Sports Minister to look into the crisis that rocks Nigeria's football and other sports that have suffered neglect in the past years.
"I think the Sports Minister should try as much as possible to end the crisis that befalls Nigeria's football. He need to do away with some people in the NSC if he wants sports to develop in this country," he said.
The former AK Ghent of Belgium, said it is important for the new Sports Ministers to
carry ex-internationals along if he wants to succeed.
Similarly, the Team Manager of 3SC Football Club of Ibadan, said it is the time the ex-international should be fully engaged in sports in the country.
"I am sure the new sports minister is aware of the task ahead and he will be able to resolve some lingering issues affecting sports in the last few years. I wish him best of luck during his administration," he said.
Commenting on the challenges facing the new minister, former Super Eagles' coach, Adegboye Onigbinde , believes that if Suleiman can embark on grassroots sports development, Nigeria will be ranked among the best sporting nations in the world.
"If the new Sports Minister can embark on grassroots sports development, Nigeria will rise again. Our major problem is the neglect of developmental sports programmes . This really affects our performance in international competitions," he said.
3SC Coach,Fatai Amoo said the new Sports Minister must live up to expectations.
—Sunday Akintoye
Load more