As part of the effort to develop sports from the grassroots, the newly appointed Sports Commissioner in Lagos State, Barrister Enitan Oshodi, says government will focus more on schools sports in the state than before.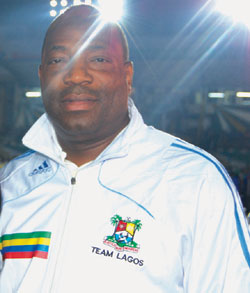 Barr. Oshodi said the state government with the Ministry of Education will work with schools in the state to ensure that some of the athletes that are willing to go to schools are supported, adding that coaches will also be retrained to be able to impart on the athletes.
The sports commissioner said this gesture will inspire the athletes to do well in major competitions.
"We will rebuild our school sports and re-integrate the use of Physical Education teachers in schools, so that most of our students will be introduced to sports early in life," he said.
Oshodi also reaffirmed that the welfare of the athletes will not be compromised. According to him, Governor Babatunde Raji Fashola-led administration would continue to focus on development of athletes for life, which he said, is in line with the sports development policy of the government.
"Our focus on the development of athletes is for life. We had done it in the past and we will continue to give priority to the welfare of the athletes. No athletes will suffer for representing Lagos State.
"We need to continue the good work of the Governor Babatunde Raji Fashola by ensuring that we retain our athletes and that is why we want them to be in school, while some will be involved in vocational training so that they can be useful to themselves after quitting sports. Some of them that are fit to be employed will be engaged in public and private sectors," he said.
On the hosting of the 2012 National Sports Festival, Oshodi said: "Lagos State had hosted major competitions successfully. I think Rivers State must be commended for hosting last festival and for us, we are going to make use of the National Stadium and some of our stadia like Teslim Balogun, Agege and Onikan Stadia. Some of our sporting facilities will also be upgraded for the festival.
"Infrastructure will not be a problem because we have the facilities to host the championship. For us the festival is not for sports alone but to showcase the rich cultural heritage of the state. Every participating state will surely be at home at the festival next year because Lagos is home to all the states of the Federation."

Load more