Negotiations between the Federal Government and organised labour over the new minimum wage implementation have been adjourned till tomorrow 2, August, an official said late on Sunday in Abuja.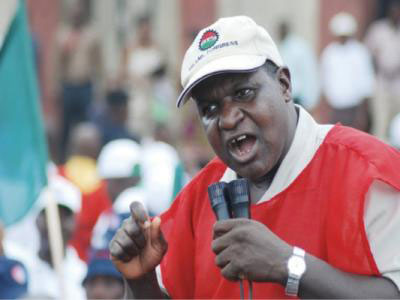 The Minister of Labour and Productivity, Chief Emeka Wogu who briefed newsmen shortly after government's meeting with labour, said that the development was necessary for both parties.
"It was to enable both parties look at and agree on some contentious areas," he said.
The News Agency of Nigeria (NAN) reports that both government and labour had been involved in talks over the modalities of the implementation of the new minimum wage.
Speaking with newsmen later on, the acting General Secretary of the Nigeria Labour Congress (NLC), Mr. Owei Lakemfa, confirmed that negotiations were still on.
"The Nigerian people know that we are representing them, and the workers also know that we will never sell out. We are confident about that and we have reached an agreement that will be beneficial to workers and the country.
"The government has agreed that the minimum wage will be implemented and will affect all workers across board. But what we are negotiating is the full implementation," he said.
NAN recalls that both the NLC and the Trade Union Congress (TUC) had on 19 July suspended their planned warning strike.
This had followed the acceptance by federal and state governments to implement the minimum wage across board.
Both parties had also agreed to conclude negotiations on the relativity implications of the implementation of the New National Minimum Wage Act, 2011 not later than 31 July.
The agreement had also included a decision to effect payment of the new wage from 1 August, while the time frame for payment of the arrears should not be later than October 2011.
The Federal Government had also agreed to clear the arrears with effect from 23 March, 2011 when the wage bill was signed into law.
NAN reports that Sunday's meeting had the Secretary to the Government of the Federation, Senator Anyim Pius Anyim, as chairman.
Other representatives on the government team include the Minister of Information, Mr. Labaran Maku, and Chairman of the National Incomes, Wages and Salaries Commission, Chief Richard Egbule.
The rest are the Head of Service of the Federation, Prof. Oladapo Afolabi, as well as Permanent Secretary in the Ministry of Labour, Mr. Anthony Ozodinobi all in attendance.
The delegation from labour was led by the NLC Deputy President, Comrade Mohammed Kiri, and his TUC counterpart, Comrade Musa Tolly.
The General Secretaries of both labour bodies, Mr. Owei Lakemfa and Mr. John Kolawole, were also in attendance at the meeting.

Load more