In a bid to ensure that Lagos State do not only organise a National Sports Festival that will be one of its kind next year, but also make an appreciate impact at the biennial tourney, the state's Commissioner for Youths, Sports and Social Development , Enitan Oshodi has set target for the Sports Council.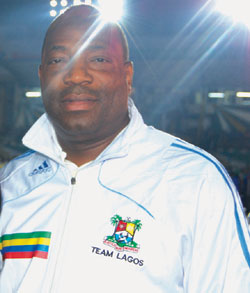 The target, which is aimed at developing sports at the grassroots, will be the bedrock of discovering talented athletes that will do the state proud at next year's sports festival that Lagos will host.
"We just have to redirect the state's sports policy to focus on development of grassroot sports in the local areas within the state where there will always be talented athletes for the state to make use for tourneys," he said.
"These athletes are begging to be harnessed and we are going to do just that to make sure we realise our target of making use of what we have to get what we want, which is hosting a befitting sports festival and reclaiming the state's lost glory in sports."
The Commissioner also said that he has confident on the ability of Lagos to organise a world class festival that will compete with the rest of the world in terms of organisation and assembly of state of the art facilities.
In his words, "Lagos is known for presenting the best when it comes to hosting people either within the country or from the rest of the globe and I have the confident that we are not going to do anything short of delivering a sports festival that will rank among the best than the previous editions," he said.
—Bamidele Olowosagba

Load more