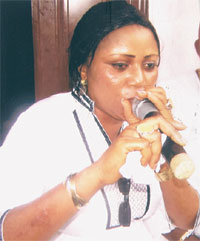 A popular female fuji singer, Queen Zainab Abisola Abeke a.k.a. Lacasera, who recently released an album entitled One Love featuring Abass Akande Obesere, will today storm Snikax Bar and Restaurant for a live performance.
The show is in continuation of her weekly gig which was suspended during the Ramadan fast.
She told P.M. Entertainment that today's show will be spectacular and that her fans will be in for a nice time.
The top female singer, who lost her manager recently, also disclosed that the show will feature a special song in honour of the deceased, while she is warming up for a follow up to her latest album, in which she hopes to feature another top star.
—Ayodele Lawal

Load more