Friends, fans and family members of Femi Anikulapo-Kuti were at the Muritala Muhammed Intertnational Airport, Ikeja, Lagos this morning to accord the three-time Grammy Awards nominee a heroic welcome.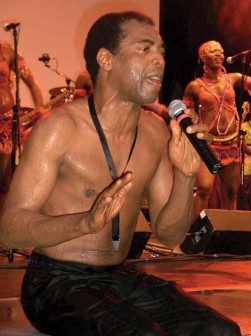 Femi's friends and members of his family, dressed in customized T-shirt, with Femi's name boldly inscribed on it, sang and danced when the Afro beat musician came out of the airport.
Sooki as Femi is popularly called stepped out of the airport at about 5.40 a.m. and shouted his popular slang 'aarara ra' when he sighted his fans and members of his family. They responded with 'orororo.'
The convoy later moved to the New Africa Shrine, Ikeja where others who could not make the trip to the airport were waiting to see the man considered as the new King of Afro Beat Music.
At the Shrine, an excited Femi and friends drank Champagne to celebrate his arrival and nominations.
Speaking with P.M.NEWS this morning, Femi said: "I am very happy because Grammy nomination alone is an award itself. Though when I was nominated the first time, I was desperate to win the award until the second and this one. With each nomination I have learnt different things about life. So, being recognised is an award itself. I am very excited that I am being recognised."
Femi's song 'Africa for Africa' was nominated for the Grammy Awards coming up in February 2012 , while 'Day by Day' and 'Fight to Win' were nominated in 2011 and 2003, respectively
—Ayodele Lawal