In an exciting way, the competition is getting hotter on Nigerian Idol, the country's biggest music reality show, as the first 10 contestants from the top 30 finalists performed before a live studio audience last weekend.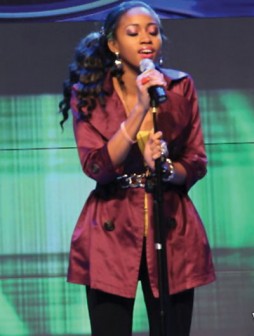 With all the Judges-Jeffrey Daniel, Yinka Davies, and Charly Boy, joined by celebrity guest judge Kenny St Brown [KSB], patiently listened, all the talents, one after the other, serenaded all to gain a spot in the finale of the show. The night's performances kicked off with a subtle rendition of the Beyonce Hit If I were a Boy by Timi Myles. She was followed by the petite Joy who performed Justin Bieber's Baby to the admiration of the audience. The ever cheerful Chinedu gave a Bob Marley hit a tasteful R&B twist of its own which earned him the admiration of celebrity guest judge of the week, KSB.
The sultry Nikky followed with a jazzy rendition of the classic 'Killing Me Softly which Charly Boy rated as one of the best performances of the night. Bharbar came after her with a comic rendition of the Michael Jackson bestseller Billie Jean. The judges were not very impressed with his dancing skills but Jeffrey Daniel commended him for his effort. He was followed by Beulah Faraday who sung her version of the Chaka Khan hit Aint Nobody whilst her performance was rated okay, Yinka Davies believed she could have done better. Israel brought back memories of the 90's with his version of Bryan Adams Back At One
Byno, one of the contestants appears to have won the hearts of some members of the audience, especially the ladies whooped as he performed the Bruno Mars 2010 hit, The Way You Are. Charly Boy was thrilled and asked the audience to vote for Byno. Then came the turn of Ebi Paul Otti, who equally moved the judges and the audience with his superb performance of KC & Jojo's classic All My Life. While Jeffrey Daniel praised his vocal strength, guest judge KSB could not fault his performance.
With the end of the first set of 10 performances from the top 30 finalists, the voting lines have been thrown open and the audience can have a chance to vote their favourites into the top 10.
—Funsho Arogundade

Load more