Star music producer and Mo'Hits Records boss, Don Jazzy, has denied ever been a member of the powerful global fraternity, Illuminati. He described as spoof the stories that himself and the Mo'Hits team, are new recruits into the Illuminati cult.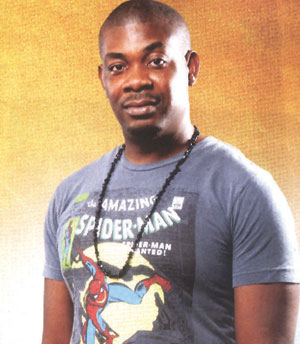 Don Jazzy, in response to the speculations, makes the rebuttal in a no-hold barred interview with the music magazine, HipHop World.
The award winning producer said that was the 'dumbest story' he ever read in his entire life. "I know the first thing is to put God first. I am not Illuminati or anything. I did not join any secret cult. You people did not even dash me Ogboni first or Eiye or anything; you just say Illuminati straight. It does not make any sense. I don't even know who those people are in the first place. I believe in God and I have never done juju of any sort," Don Jazzy said.
While the rumour mill ascribes Don Jazzy and his Mo'Hits crew's source of success to the cult, in the contrary, Don Jazzy said his sources of success have been God and hard work. He claimed that he also tries as much as possible to be himself as a music producer.
"If I'm doing a beat and it doesn't come out right, I am not afraid to delete and start again. I take my time to make sure the beat sounds proper before I put it," he said.
The Illuminati is an Anglo-Israeli fraternity with claims that the Queen of England is the head and has most of the world powerful citizens including George W.H Bush and Bill Clinton, both former United States Presidents; British PM, James Cameron; his deputy, Nick Clegg; former British PM, Tony Blair, former Italian PM, Silvio Berlusconi and Russia-born Chelsea FC owner, Roman Abrahamovich, as members.
The 30-year-old Don Jazzy, born Michael Collins, moved to the United Kingdom in 2000 where he cut his music teeth first as a member of the Cherubim and Seraphim Church choir in London. He later joined Jide Chord's Juju Band and then teamed up with Soji (Mr Solek) and Michael Oloyede to float the original Solek Crew.
With his dexterity as a beat maker, Don jazzy has turned his music label, Mo'Hits, into a multi-million naira business empire, while all his label's acts, especially D'banj, have become platinum-selling artistes. Apart from D'banj's recording deal with America's rap mogul, Kanye West's G.O.O.D music, Don jazzy also has an arrangement with the American star as an in-house beat producer. The phenomenon that he and his team have become in the last six years in the Nigerian music industry has spurred the rumours milling around them.

Load more