Two robbery suspects who allegedly confessed to the police after their arrest that they bought a gun in the open market in Badagry for N5,000 and mounted road block to rob people, have been arraigned in court.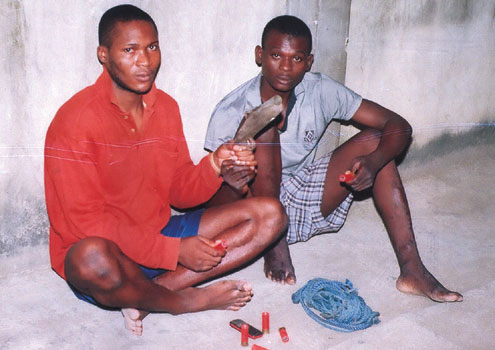 Men of the Federal Anti-Robbery Squad at Adeniji-Adele Road, Lagos Island, Lagos State, Southwest Nigeria, arrested the suspects identified as Seun Adigun, 21, and Kolawole Idris, 20, of no fixed address.
They usually operated along Kirikiri Road, Apapa, Okokomaiko-Badagry expressway and Ojo Alaba International Market Road, Lagos.
Investigations by the police revealed that the duo armed with guns and other dangerous weapons were arrested at Kirikiri area of Apapa, Lagos at about 2 a.m. when they mounted road block and robbed motorists of their belongings.
Nemesis caught up with them when they allegedly robbed a truck driver identified as Ezekiel Okoye of his N33,950 and four handsets valued at N20,000.
Okoye, P.M.NEWS gathered, informed men of Federal Special Anti-Robbery Squad, FSARS who were on special assignment in the area of the robbery operation.
The operatives on receiving the information raced to the scene to confront the robbers and in the process arrested the duo, while one of them identified as Uche escaped with bullet wounds.
During interrogation, the suspects allegedly confessed to the crime, adding that they have been robbing Lagosians for long.
In his confessional statement to the police, Seun Adigun said: "We usually dressed in reflective jackets to disguise as security operatives and mount road block around 2 a.m. with long rope tied to a pole.
"As motorists approach, we stretch the rope across the road and flash down the vehicle with our torch lights. Immediately they stop, we point a gun at them and order everybody to come out. 'Lie down,' we would command and rob them of their belongings.
"Our member called Uche, escaped with one the guns we bought at Badagry open market for N5,000," Seun allegedly told the police.
Items recovered from them, according to the police, include 1 cut-to-size pistol, catridges and the rope they used in their operations.
They were charged before an Igbosere Magistrate's Court on a two-count charge of committing felony to wit, armed robbery.
The offences, according to the prosecutor Sergeant Phillip Osijale, are punishable under Sections 6(b) and 1(2) (a) and (b) of the Robbery and Fire Arms (Special Provision) Act, laws of the Federation of Nigeria, 2004.
The prosecutor opposed the bail of the accused on the ground of court jurisdiction to try the matter.
Osijale informed the presiding magistrate, Mrs. F. O. Aigbokhaebo, to remand the accused in prison pending the advice from the State Directorate of Public Prosecution, SDPP, for final prosecution of the matter at the High Court.
The magistrate ordered that the accused be remanded in prison pending the advice from SDPP and thereafter adjourned the matter till 14 March 2012 for mention.
—Paul Iyoghojie

Load more