The death of popular American pop queen, Whitney Houston, has been described as the greatest loss so far this year. As the rest of the world continues to mourn the great singer who will be buried today, Nigerian celebrities speak of the vacuum her demise has left in the global scene.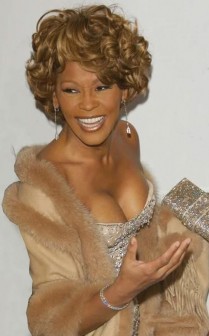 STELLA MONYE: "What a sad end for a woman whose vocal cord is incomparable to anyone in the world."
TONY OKOROJI: "It is a sad one. The entire COSON members are devastated. She will be missed forever."
STELLA DAMASUS: "I think she was one of the greatest entertainers ever. I particularly respect her because her music has no boundaries; it cuts across all calibre of people and generations. It is a very big vacuum she left behind."
TWIN-X: "Whitney was absolutely enigmatic and she is just irreplaceable. The realness and freshness of her last 'comeback' album showed how much vacuum her long break created in the world of Pop music and entertainment globally. So sad to realise there will never be another 'comeback' like that.
"Death is inevitable but then as much as we are all aware of this fact, we still can't help feeling the pain of losing such people whose works have had a lot of influence on our careers. These things happen this way for us to be constantly reminded that there is indeed God. May she find peace in heaven."
Whitney Elizabeth Houston, born on 9 August 1963, died on 11 February 2012. She was an American recording artiste, actress, producer and model. In 2009, the Guinness Book of World Records cited her as the most-awarded female act. Her awards include two Emmy Awards, six Grammy Awards, 30 Billboard Music Awards, and 22 American Music Awards among a total of 415 career awards in her lifetime. Houston was also one of the world's best-selling music artistes, having sold over 170 million albums, singles and videos worldwide. Houston began singing with her New Jersey church's junior gospel choir at age 11. After she began performing alongside her mother in night clubs in the New York City area, she was discovered by Arista Records label head, Clive Davis. Houston released seven studio albums and three movie soundtrack albums, all of which have diamond, multi-platinum, platinum or gold certification.
Houston is the only artiste to chart seven consecutive No. 1 Billboard Hot 100 hits (Saving All My Love for You, How Will I Know, Greatest Love of All, I Wanna Dance with Somebody (Who Loves Me), Didn't We Almost Have It All, So Emotional and Where Do Broken Hearts Go).
She is the second artiste behind Elton John and the only female artiste to have two No.1 Billboard 200 Album awards (formerly "Top Pop Album") on the Billboard magazine year-end charts. Houston's 1985 debut album, Whitney Houston, became the best-selling debut album by a female act at the time of its release. The album was named Rolling Stone's best album of 1986, and was ranked at number 254 on Rolling Stone's list of the 500 Greatest Albums of All Time. Her second studio album, Whitney (1987) became the first album by a female artiste to debut at No.1 on the Billboard 200 albums chart. Houston's crossover appeal on the popular music charts as well as her prominence on MTV, starting with her video for How Will I Know, influenced several African-American female artistes to follow in her footsteps.
Houston's first acting role was as the star of the feature film, The Bodyguard (1992). The film's original soundtrack won the 1994 Grammy Award for Album of the Year. Its lead single, I Will Always Love You, became the best-selling single by a female artiste in music history.
With the album, Houston became the first act (solo or group, male or female) to sell more than a million copies of an album within a single week. The album makes her the top female act in the top 10 list of the best-selling albums of all time, at number four. Houston continued to star in movies and contribute to their soundtracks, including the films, Waiting To Exhale (1995) and The Preacher's Wife (1996). The Preacher's Wife soundtrack became the best-selling gospel album in history. Three years after the release of her fourth studio album, My Love Is Your Love (1998), she renewed her recording contract with Arista Records. She released her fifth studio album, Just Whitney, in 2002, and the Christmas-themed, One Wish: The Holiday album in 2003. In 2009, Houston released her seventh studio album, I Look to You.
On 11 February, 2012, Houston was found dead in her guest room at the Beverly Hilton Hotel in Beverly Hills, California, of causes not immediately known. News of her death, the day before the 2012 Grammy Awards, dominated American and international media, especially cable news.
— Bayo Adetu

Load more