A petty trader at Mile 12 market, Mrs. Ofotobor Anu, who was on Tuesday, 14 February, 2012 accused of snatching the manhood of a fellow passenger at Ketu through diabolical means, has said that she is not guilty of the allegation.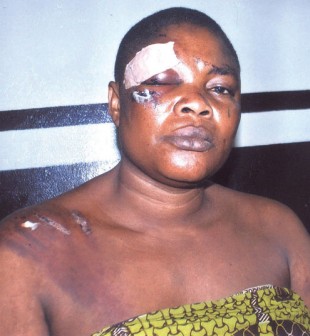 Mrs. Ofotobor, who was battered by a mob and later by policemen after the incident, claimed that she was just a victim of circumstance and pleaded with Nigerians to come to her aid to make sure that justice prevails on the matter.
On that fateful day, Mrs. Ofotobor was said to have left her shop at Mile 12 in Lagos, Southwest Nigeria at about 9a.m and boarded a bus going to Ketu. Her intention was to join another bus going to Oyibngbo from Ketu. She was heading to her father's house in Ebute-Metta.
According to her, a male passenger in the bus did not pay his N50 fare, and a fight ensued between him and the bus conductor. But out of her magnanimity, she told the conductor to take her N50 change in exchange for the passenger's fare.
"So when we got to Tipper bus stop, the guy (whose transport fare was paid) started shouting that I have snatched his manhood spiritually.
"I was so angry because we didn't sit together and I didn't even give him the money directly. Before I knew what was happening, a crowd descended on me. I was stripped naked and subjected to public ridicule. But I was lucky that one or two persons who knew me as a trader at Mile 12 intervened and rescued me from being lynched.
"Shortly after, policemen came and took me away in a tri-cycle. They took me to the Ketu monarch who later instructed them to take me to a nearby police station. I was then transferred to Alapere Police station where the policemen also began to beat me mercilessly, and I was not allowed to speak or write any statement until the next day. It was later in the afternoon when the DPO came that he insisted I should be taken to the hospital for treatment," Mrs. Ofotobor lamented.
P.M NEWS gathered that she was first taken to a general hospital in Modela, Ketu, but was rejected. The doctors claimed her injuries were too severe for them to handle. She was then admitted at about 6 pm at another hospital in Iya Kan bus stop, Ketu.
"In fact, it was friends and other sympathisers that came to pay my hospital bill because my bag and other valuables were snatched from me at the scene of the mob attack in Ketu. I was subjected to public ridicule and torture by the mob and the police over an issue I knew nothing about. I want to use this opportunity to call on Nigerians and other concerned authorities to come to my aid in making sure that justice prevails," Mrs. Ofotobor lamented.
Speaking with P.M NEWS yesterday, a police source confirmed that Mrs. Ofotobor was brutalised, adding that a test had been carried out on the male passenger to ascertain if his manhood was actually snatched. But the officer declined to disclose the result of the test as at the time of filing this report.
—Bayo Adetu

Load more