At least 110 suspects have been arrested in connection with the mayhem on Lagos Island on Monday.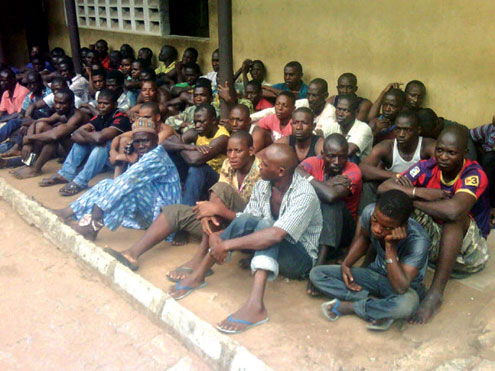 A combined team of the Rapid Response Squad, RRS, and the Lagos State Taskforce on Environment and Offences (Enforcement) Unit stormed the Island last night and arrested the area boys.
The team, led by the RRS Commander, Hakeem Odumosu, raided the Island between 9.30 and 10.00 pm and conveyed those arrested in a Black Maria to the Taskforce Office at Alausa, Ikeja, Lagos, Southwest Nigeria.
A police source said the team was well armed and raided the area in order to fish out those miscreants unleashing mayhem on Lagos Island.
When contacted, Taskforce Chairman, Bayo Sulaiman confirmed the raid on Lagos Island on Tuesday night, saying it was a combined team of the RRS and taskforce that carried out the operation.
He said the suspects were arrested at the notorious Pelewura Market and its environs on the Island, saying that the raid would be continuous.
Sulaiman said the suspects would be arraigned in court today while those convicted would be made to face the wrath of the law.
Last week, over 100 miscreants were also arrested by the combined team of the RRS and the taskforce on the Island in connection with the protracted crisis rocking the area and charged to court.
On Monday, miscreants, loyal to the factions of the National Union of Road Transport Workers, NURTW clashed on the Island, resulting in the death of four persons. One of those who died has been identified as Jamiu Adebara a.k.a Marcus.
The renewed clash was between Isale-eko and Onola/Agarawu/Itafaji boys over the on-going crisis involving two factions of the NURTW, while several people sustained severe injuries, over 20 vehicles along Palm Church and Isalegangan Streets were vandalised and burnt during the mayhem.
During the mayhem, the building of the popular 'New Star Photo' along Isalegangan Street was set ablaze by the miscreants.
Dangerous weapons such as guns, cutlasses, among others were used freely while shops on the Island were shut by their owners as a result of the crisis.
"It was the night guards along Palm Church area that started to whistle to alert residents who were sleeping outside their building because of black-out from Power Holding Company of Nigeria, PHCN, that save the situation, as many people would have been killed by the armed youths," an eye witness said.
—Kazeem Ugbodaga

Load more