Nigeria's international soul singer, Asa, has described the tale of lesbianism trailing her and her long time manager, Janet Nwose, as a cheap attention-seeking stunt by the peddlers.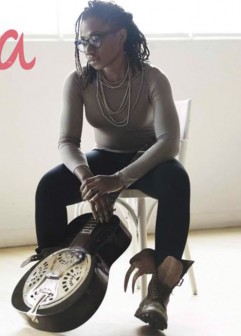 The singer and her manager has thus sued a Lagos-based celebrity magazine for defamation. On 23 February, scores of friends and fans of Asa had besieged the Lagos High Court Room 23, to listen to her being cross-examined in what is set to be a landmark defamatory case in Nigeria. But the ever busy singer was conspicuously absent at the crucial stage of the case that began two years ago.
Reacting from her base in France to the global buzz trailing the case, Asa had hit her official twitter handle to react: "there are many amazing things and sad things happening in Africa that we have to focus on, not cheap attention seekers. Go Gwen!"
But despite her absence, Showbiz Trends learnt that she is actually keen to see the case to a logical conclusion to serve as a deterrent to others. Asa was said to have been enraged over the story and was more concerned about its implication on her brand and how the corporate world will perceived her.
Despite her growing global appeal, the singer has not really snagged any major endorsement deal, except a jingle she recorded for one of the leading new generation banks.
In the suit she slammed against publishers of the magazine, Asa urged the court to declare that the statement and picture in the December 14-22 edition of the magazine, entitled: Lesbianism Tale Trails Asa and Manager, was defamatory. She wants the court to declare that the allegation of lesbianism against her and Janet is false, illegal and a violation of their rights.
They are also demanding a compensation of N700million from the writers of the story and urged the court to restrain the defendant from further publication of what they described as malicious statements against them.
Asa and her manager alleged that defamatory statement was calculated to discredit and malign them in their 'unblemished' career as international music artists with high moral standing, which they have consistently conveyed in her songs.
—Funsho Arogundade

Load more