Yoruba actress, Laide Bakare Okunfolire who was involved in an auto crash as reported by P.M.NEWS on Monday, has lied about the incident on a TV programme.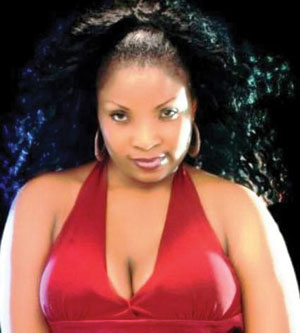 She was actually involved in the auto crash in front of Ifo Police Station, Ogun State.
Policemen at Ifo Divisional Headquarters, Ogun State have faulted claims by the actress who lied that her 2011 Range Rover Sport with customised registration number L B O (Laide Bakare Okunfolire) was not involved in an auto crash.
P.M.NEWS investigation revealed that the incident was investigated by Inspector Ajani Shodiya attached to Motor Traffic Department (MTD).
A police source told P.M.NEWS Wednesday when our correspondent went back to the station to get more information about the crash after her denial: "Why did she lie? The accident happened right in front of this station and she escaped unhurt with her driver. She claimed that she was on her way to a movie location.
"She instructed her driver who gave his name as Semiu, to write a statement and her vehicle was impounded for three days after which she brought a personal mechanic identified as John to repair and drive it away."
The Ogun State Police Command Public Relations Officer (PPRO) Muyiwa Adejobi, an Assistant Superintendent of Police, confirmed it saying, "Yes, the accident occurred and the police settled it amicably for them and they were allowed to go."
On Tuesday, a day after the story was first reported in P.M.NEWS, the actress participated in a morning television programme during which she denied our story, describing it as false and baseless just to discredit the report.
She claimed to be in Ghana when the accident occurred. But that claim was obviously far from the truth.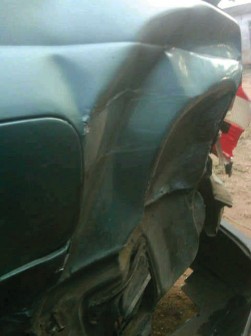 One of the readers who commented on the story on our website even confirmed that he actually drove by when the accident occurred.
Perhaps, the actress denied her involvement in the accident because she had lied to people that she was in Ghana. When she realised that her lies could not be covered up any longer, she instructed her spokesperson to call our reporter yesterday and arrange how she could visit our office to make amends. But we declined.
Spirited efforts by Laide and her publicist to organise a media parley on the issue yesterday also failed.
The accident involved Laide's Range Rover and a Nissan car. The driver of the Nissan car later admitted that he was at fault and both automobiles were impounded at the Ifo Police Station.
The actress was said to be on high speed when the Nissan driver, coming out of the police station rammed into her SUV. It, however, took the prompt intervention of policemen around to bring the tense situation under control.
The source further opined that it was the 'star' status of the actress that made the jittery Nissan driver admit being at fault at the accident scene.
"He could have claimed otherwise, but I guess it was due to the respect he has for her. Both of them were at fault really because Laide too was on a rather high speed."
—Bayo Adetu & Oluwole Adeboye

Load more