The city of Enugu erupted in celebration this morning as a special session of tributes held for departed Igbo leader and Biafra warlord, Dim Chuwuemeka Odumegwu- Ojukwu.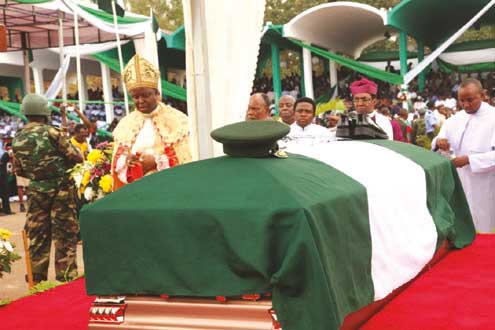 As a early as 8am, hordes of people began to troop into the expansive Michael Okpara Square, where Ojukwu's body was laid-in-state, and two hours later, the venue was packed.
Some came decked out in full traditional attires, while many showed up in uniform dresses with Ojukwu's image emblazoned on them. Youths who made colourful souvenir of the Igbo leader also made brisk business.
The Enugu State Government had declared today a work free day, while all markets and business outlets shut in a show of respect for the man they fondly called Ezeigbo Gburu-Gburu – the Generalissimo of the Igbo race.
In continuation, of the month-long rites of passage for the deceased, the Enugu government organised an "interdenominational Christian funeral rites" for Ojukwu, a native of Nnewi in Anambra, but who made Enugu his place residence.
The Catholic Bishop of Enugu, the Most Reverend Callistus Onaga, presided over the worship session.
A mass choir sang solemn worship songs, while other choral performances were presented by various groups, including that of the choral ensemble led by Laz Ekwueme.
Special prayers for the repose of the soul of the deceased was also said by various blocks of the Christian Association of Nigeria, CAN.
As Ojukwu's body made a grand entry into the ceremony's venue, a military canon fired deafening shots into the air, in line with the military's tradition of burying high ranking officers.
The federal government had approved that Ojukwu, a retired Colonel of the Nigerian Army, be accorded full military honours in death.
Ojukwu's widow, Bianca, one of his eldest sons, Chuwkwuemeka Jnr, and his younger siblings led the family delegation at the ceremony.
Many eminent Nigerians and members of the diplomatic corps and other foreigners, showered encomiums on the late Ojukwu.
Former Ghanaian leader, Jerry Rawlings and Prof. Wole Soyinka led the tributes session. Soyinka read a special tribute titled: "Ojukwu My Friend".
Retired Justice of the Supreme Court, Chukwudifu Oputa, and Commodore Ebitu Ukiwe (retd.), who chaired the occasion, among other dignitaries, also paid glowing tributes to the Igbo leader.
As at press time, President Goodluck Jonathan was being expected at the funeral.
The Enugu ceremony caps the month-long funeral rites for the late Ojukwu, who died, aged 78, on 26 November, in London, after suffering a stroke.
His remains will be interred tomorrow in his hometown of Nnewi, in Anambra State.
—Tokunbo Olajide/ Enugu

Load more