It was a gory and pathetic sight as two unidentified lovers died in a multiple crash along the Lagos-Ibadan expressway, near Otedola Estate, Lagos this morning.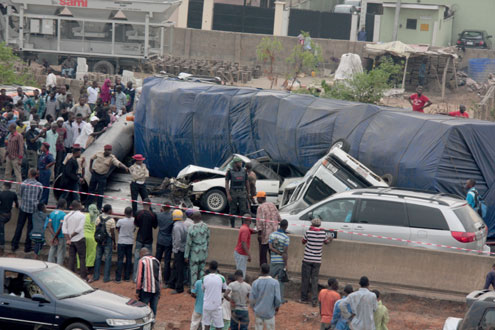 The accident involved seven vehicles including a fully loaded truck with registration number XZ 437 MUS. Others include an 18-seater inter-state commuter bus with plate number XN 547 LSR, Honda Accord (FKJ 645 AG), Volkswagen Golf (DN 504 EKY) and a Toyota Sienna (GR 304 LND) branded by Joint Juice.
P.M.NEWS gathered that the accident occurred at about 6 a.m. today. While the body of the two lovers who occupied the front seat of the commuter bus were still trapped under the truck as at the time of filing this report, other victims of the multiple crash have been rushed to the Lagos State Emergency Centre located a few metres away from the scene of the accident.
A witness told P.M.NEWS that last night a truck conveying heavy iron pipes had an accident, leaving one of the iron pipes covering a part of the expressway. It was the pipe that caused the multiple accidents this morning.
The witness, who blamed the incident on the nonchalant attitude of concerned authorities, said if the heavy pipe had been removed or safety signs created to alert motorists, the accident would have been averted.
"It is so unfortunate because since yesterday, government officials didn't come to remove the pipe from the express road or create awareness for motorists. But I am sure if it was a vehicle that broke down here, they would have come to tow it," the witness lamented.
The affected vehicles were said to be on high speed, not suspecting that the iron pipe was already covering the service lane of the expressway. While trying to manoeuvre, the truck driver was said to have crushed other vehicles, before falling on the commuter bus, thereby trapping the two lovers.
Speaking with P.M.NEWS at the scene of the accident this morning, the boss of Lagos State Emergency Management Agency (LASEMA), Dr. Oluwafemi Osanyitolu confirmed that there are two mortalities, while nine injured victims have been taken to the accident emergency unit for treatment.
"It is quite unfortunate, but as you can see, all hands have been on deck to restore normalcy. Everything is under control," he added.
Wife of the Ogun State governor, Funmi Amosun, who was driving by with her entourage this morning also stopped to sympathise with the accident victims.
The accident caused heavy traffic on both sides of the expressway, but officials of the Federal Road Safety Corps (FRSC), LASTMA, Civil Defence and Police have arrived the scene to salvage the situation.
—Bayo Adetu &Iyoha Harrison

Load more