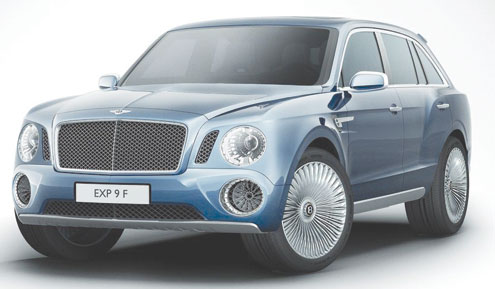 Seems the SUV path mulled a little while ago has taken shape – Bentley is unveiling its EXP 9 F all-wheel drive luxury SUV concept at the Geneva show, and the study is set to examine the potential for a third Bentley model-line alongside the bespoke Mulsanne and performance Continental ranges.
Key Bentley styling cues – such as the matrix grille, round lamps and the strong power-line and haunch along each flank – have been re-interpreted for the EXP 9 F, with plenty of sculptured flowing surfaces to emphasise the power, muscularity and robustness of the design. Cues at the front include daytime running light apertures that act as the charge cooler air intakes for the twin-turbo W12 engine, each with a dramatic, mesh-covered turbine fan design and rifled inner surface finish.
At the rear, the swooping lines of the tailgate takes a sporting profile, with an ultra-wide, two-part split tailgate to boot. The EXP 9 F also gets twin exhaust tailpipes with rifled inner surfaces, their elliptical shapes echoing those of the rear light clusters, the design of which is inspired by the form and details of fighter jet engines, so it goes. The 6.0 litre, twin-turbo charged W12, together with an eight-speed transmission, is the powertrain of choice for the concept, but the production form could well see the company's recently-launched 4.0 litre twin-turbo V8 or a hybrid drivetrain. The company looks set to take the vehicle into production; it says that the show vehicle, which wears 23-inch multi-spoke alloys, is to provide a basis for feedback and comments with the aim of refining the concept further.

Load more