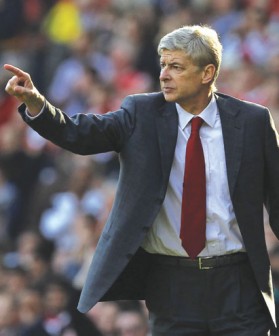 Arsene Wenger hopes for a cleaner contest against Newcastle in their Premier League tie and urges his Arsenal side to gun down their visitors at The Emirates in London tonight. The match starts at 21:00hrs.
The Gunners go into today's home clash with Newcastle aiming to close on third-placed Tottenham, who were beaten at Everton, and put distance between themselves and Chelsea, who beat Stoke on Saturday.
Arsenal have found some consistency in recent weeks, winning four from their last five Premier League games, which included back-to-back victories over Spurs and Liverpool.
Having crashed out of the FA Cup at Sunderland and being unable to overturn a 4-0 first leg deficit against AC Milan in the Champions League, despite the morale-boosting 3-0 home win, Wenger knows his men must retain focus if they are to stay the course.
"As a group, we have learned from what happened at the end of last season – you learn from every disappointment,'' said Wenger, who saw the previous campaign quickly unravel following a shock defeat in the Carling Cup final to Birmingham at Wembley.
"The team knows, subconsciously, that to finish in the top four this season requires fantastic fight, whereas maybe that was taken for granted towards the end of last year.
"That is the difference – this year we know we have to fight to get in there.''
Wenger is expecting a stern challenge from Newcastle, who themselves are not out of contention to gatecrash the top four.
He said: "First of all they play with a fantastic attitude, but basically what they have done very well is that they bought well. That is one of the secrets in our game.
"Yohan Cabaye was a very good buy, with Hatem Ben Arfa, Demba Ba, Papiss Cisse. All their buys were successful.''
Meanwhile, Newcastle United boss Alan Pardew has thrown the gauntlet down to his players to prove they are worthy of a place in Europe, by defeating Arsenal tonight.
The Toon Army current sit sixth in the table, just five points off of Arsenal who occupy fourth. Victory at the Emirates would put them in strong contention for European football with ten games left to play in the season.
"The next 10 games will do that. This one is about the Champions League – if we win we will be throwing our names in the hat.
"I don't think we are good enough to do it or big enough. I don't think we will be able to hold our nerve to do it. However, if we win, it will make it very interesting for Liverpool, Chelsea and Arsenal. We will all go to the next fixture a bit lively."

Load more