Arsenal manager Arsene Wenger believes Theo Walcott is emerging as a key figure in the north London club's fight to finish third.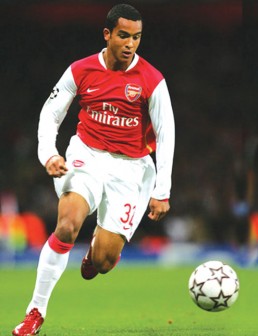 The England winger provided vital assists for both his team's goals in the dramatic added-time victory over Newcastle United that moved Wenger's side to within one point of third-placed Tottenham.
Robin Van Persie struck the first from Walcott's cross to claim his 33rd goal of the season.
But while the Arsenal captain has been the dominant figure throughout the Gunners' campaign, Wenger insists Walcott is playing an equally important role.
The Arsenal manager said: "I think people forget about Theo because he is so long in the spotlight that people forget he is 23 years old and he is now getting to an age where you perform.
"It's as simple as that. He develops well because he is intelligent and I feel tactically and technically tonight he played a complete game. He is a workaholic"
Walcott laid on the last minute cross that was turned home by Thomas Vermaelen to seal a fifth successive Premier League win and maintain Arsenal's recent record of last gasp victories.
Wenger said: "I believe it shows we have quality, we have spirit which I never questioned.
"We had relentless effort from the first to the last minute. The tempo was absolutely top level and kept going until the last second of the game. And certainly the fact we have done that before helped.
"We just kept going and you feel that in the team we have that complete and total commitment to do whatever we can."
And he added: "We played recently against Tottenham, Liverpool, Newcastle, and at Sunderland who are difficult to beat.
"It was tight every time, we won in the last minute at Sunderland, at Liverpool and against Newcastle. What is at stake is complete commitment from every single game and see where we finish."
Van Persie kick-started the recovery after Hatem Ben Arfa had put Newcastle ahead in the 14th minute and was involved in an ongoing argument with visiting keeper Tim Krul that threatened to spill over after the final whistle.
The manager said: "I don't know if it is history from Holland or today's story? I haven't spoken to him yet but I am happy he stayed yellow and didn't turn red.
"He is absolutely committed. He gave absolutely everything tonight and got us an equaliser."
Newcastle have now gone four games without a win and manager Alan Pardew admitted the defeat had ended their hopes of forcing their way into the top four.
Pardew's side lie sixth and are now targeting a Europa League spot.
And the manager said: "You couldn't fault the commitment but we must not let the disappointment of that last minute goal get to us because we have a lot to play for still.
"I'd billed this game for the Champions League we needed to win it, a draw was no good for us, we aren't going to get there, we could make the Europa League and we have to try and win on Saturday and keep our noses in front in that position."
Pardew admitted his side had run out of steam in the final minutes and blamed the winning goal on an injury to right back Danny Simpson.
He said: "Obviously we are very disappointed because we had the ball in their corner in the 94th minute I think it was.
"We had a few problems towards the end of the game. We lost Cheick Tiote to cramp, Danny Simpson had an injury but we had no subs left and we were struggling. And in the end Danny's recovery just couldn't get him back and we conceded the goal."

Load more