Dapo Daniel Oyebanji a.k.a. D'banj, has disclosed that he owns Mo' Hits record label and ace producer and hit maker Don Jazzy is his artiste.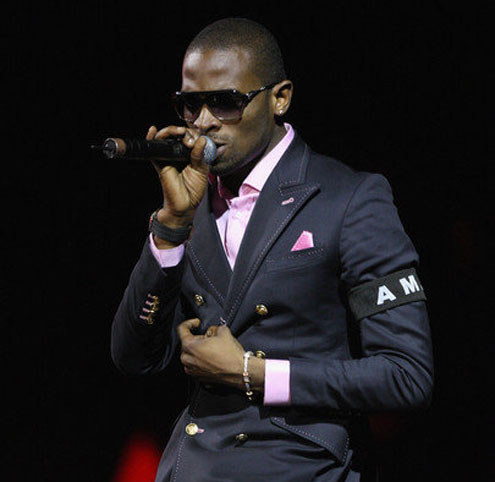 The Kokomaster, as he is fondly called, said this in an interview on Ebony Magazine's official website published on March 12, 2012.
D'banj, who claims he owns the record label, added that he was also responsible for signing of the label's artistes which include, Dr. Sid, Wande Coal, Don Jazzy, D'Prince and his blood brother, K-Switch.
The pop star goes on to talk about his entrance into the US market and his signing with Kanye West's label G.O.O.D. Music during the interview.
D'banj, apart from referring to Don Jazzy as 'his artiste', does not mention or credit the producer in any other part of the interview.
His claims during the interview, however, contradict the generally held view that D'banj and Don Jazzy co-own the label, with Don Jazzy acting as President while D'Banj is Vice President.
The pair, who started out about nine years ago when D'banj released his hit single 'Tongolo' have made headlines in recent times, with sources saying they are currently on the verge of breaking up, following seemingly irreconcilable differences.
According to D'banj," Coming from Africa I'm my own manager, I have my own label called Mo' Hits with my artistes Dr. Sid, Wande Coal, Don Jazzy, D'Prince and K-Switch. I own Mo' Hits and we've won numerous awards by the grace of God'.
"Being with Kanye for the last eight months and me leading a successful label in Africa, I've learned a lot and I believe people will see what we're going to do. I signed with Kanye in June and that same month I won the BET Award for Best International Act.
"My New York concert isn't done by G.O.O.D. Music, it's done by Live Nation, meaning I'm already a moving machine. So who's better to introduce me to the global stage than Kanye West, a crazy genius?" he said.
Speaking further, he said: " Kanye doesn't try to change you. He has great ears and great people working with him. I learned the way people do music in America is different, number one, the budget. You don't have to rush a song, you can take your time.
"I was glad because I have a studio in my home but I thought I was doing too much. I've been working with everyone else on G.O.O.D. Music too and John Legend and I worked together in London recently. It's been great experience, I just beg people to listen with an open mind," he averred.
Speaking on how he will break into America's entertainment scene, D'banj said: "I'm bringing my culture, my music and preaching the gospel. We've been learning from America's Hollywood scene and other areas in Africa because our continent is developing. We look up to the way you've built your industry and we try to do ours in the best way that we know. It's so good to see that Americans appreciate my music so that's what I'm bringing, just original Africa."
On how he joined Kanye West's G.O.O.D. Music label, he said: "I had a concert in Dubai and when we pulled up to the airport's first class lounge and a hostess ran up to me with a plaque with Kanye's face on it, asking me to sign it. I said 'I'm not Kanye West, I'm D'banj but Kanye West is coming.
"Then my manager spoke to Kanye, came back and told me 'He'll give you five minutes.' I walked over. As an African man, I'm always prepared and I played my music 'Stand Out,' 'Fall In Love' and 'Scapegoat' for him on my iPod. Before we knew it, I'd almost missed my flight and he invited me to New York."
Meanwhile, officials of Mo'Hits records have reacted to the Ebony margazine interview, claiming that D'banj was quoted out of context.
An official of the record said,"My name is Ricardo and I am an Officer of Mo'Hits. This article is taken out of context and I was there during the interview. In no way would D'banj ever Disrespect his partnership with Don Jazzy by calling him his artist or vice versa , they are partners in an entity."
According to D'banji's Media/Personal Manager,"D'banj never had any such statement with Ebony magazine during the interview he did with them. We are in touch with the editor of the magazine on these and a correctional rejoinder will be published soonest. Mohits Records is co-owned by Don Jazzy and D'banj."
—Jamiu Yisa

Load more