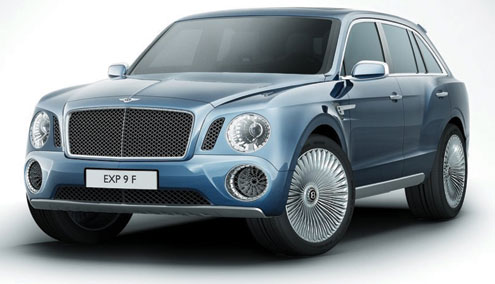 Bentley's EXP 9 F SUV concept shocked the motoring world when it was unveiled at the Geneva Motor Show last week. We said it looked like a cross between a London Taxi and an old-fashioned school bus and compared to some of the other comments we've seen from around the globe, we were being quite polite.
Clearly it hasn't been much of a hit, then, and now Bentley is reportedly going back to the drawing board on this one. According to Whatcar? magazine, a source at Bentley has admitted that the design is a bit "heavy handed" and that another design is being worked on.
This person also said that the revised design will be less retro and that the headlights will be a bit smaller and positioned more inward. Furthermore, the new Bentley's proportions will be more in keeping with a traditional SUV.
If the concept is anything to go by, the Bentley SUV will also have an extremely luxurious and innovative interior, equipped with the likes of a business centre mode with a tablet and fold-down keyboard, hand-stitched saddle leather seats, specially-made picnic baskets and table that extend from the boot on rails and even an extendable awning for the tailgate.

Load more