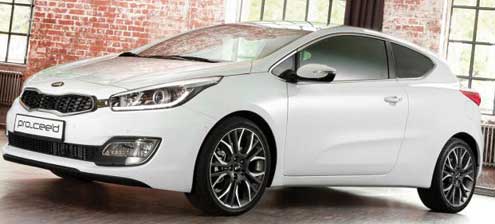 These are the first pictures of the new Kia Pro_cee'd – the three-door version of Kia's all-new second  generation Cee'd range. The Pro_cee'd is the third member of the Ford Focus-rivalling Cee'd family, joining  the five-door Cee'd and Cee'd Sportwgaon estate which made their debut at the Geneva Motor Show earlier this  year.
Kia has elected to distance the more practical Cee'd and sportier Pro_cee'd, much like Vauxhall does with its  Astra and Astra GTC models. The Pro_cee'd's bonnet is lower, with a narrow interpretation of Kia's family  tiger snout grille, while the side window line sweeps up dramatically, leading to a thick C-pillar. A range  of 1.4-litre and 1.6-litre petrol and diesel models are expected. However, in keeping with the Pro_cee'd's  sporting pretentions, a hot GT version is also planned.
Powered by a 200bhp 1.6-litre turbo engine, the Pro_cee'd GT is expected to be launched at next year's Geneva  Motor Show. This car will kick-start the arrival of a host of future performance Kias, including the Rio,  Soul and even the Picanto supermini.
By Daniel Ekugo

Load more