A new study has found potentially harmful chemicals, such as asthma-related compounds and endocrine disruptors, in common consumer products including cosmetics, household cleaners, and personal care products, and many of the detected chemicals not listed on product labels.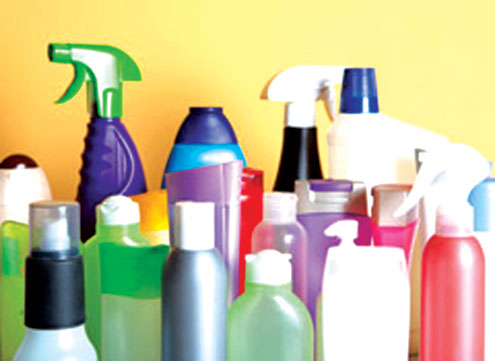 The study, which tested 213 commercial products representing 50 product types, was conducted by the Silent Spring Institute and published this week in the journal Environmental Health Perspectives.
The tested products included diapers, cat litter, dryer sheets, hand soap, laundry detergent, lipstick, perfume, shampoo, shaving cream, and sunscreen, among many others.
For testing purposes, many of conventional products were combined into composite samples, therefore results cannot be linked to a specific product, while "alternative products" in the same categories but labeled "natural," "green," or "non-toxic," and the like—all unverified claims with little to no meaning—were tested individually. The study authors detected 55 compounds, indicating a wide range of exposures from common products, both conventional and alternative. According to the study, "Vinyl products contained 10 percent DEHP, a phthalate used to make PVC pliable," which could be a source of DEHP in homes. In other products, the highest concentrations of the tested compounds were in fragranced products such as perfume, air fresheners, and dryer sheets, as well as in sunscreens. Alternative products that didn't contain the better-known endocrine-disrupting phthalates (e.g. DEHP, DEP, BBP) contained other other lesser-known phthalates that are as strong or weaker endocrine-disrupting activity.
The Silent Spring Institute states that the study represents only a fraction of consumer products and a small number of the chemicals used in products, and that since manufacturers are continually reformulating products and products, tests results may not apply to products currently for sale.
Last year, the Consumer Product Safety Commission voted to require manufacturers to perform third-party testing for phthalates in children's toys and care articles, to make sure they meet phthalate limits set by the government. Around that same time CPSC also reported on an authors concerns about pervasive plastics and children's development.
Back in 2008, the CPSC banned three types of phthalates (DEHP, DEP, and BBP) in children's bedding, toys and care articles and, in addition, banned three other phthalates (DINP, DIDP, DnOP) in teethers, toys and care articles that can be put into a baby's mouth.
The body also found that consumers are being exposed to worrisome concentrations of arsenic in foods and beverages in its Consumer Reports' investigation, which found elevated levels of arsenic in apple and grape juices.
—Henry Ojelu

Load more