The prime suspect in the murder of a teenager, Friday Ime Titus, 29, is now telling homicide detectives at the State Criminal Investigation Department, SCID, Panti, Yaba Lagos, all he knew about the death of his in-law whom he allegedly hit with a stick and while she became unconscious, had sex with her in the farm.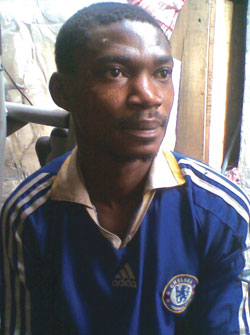 P.M.NEWS investigation revealed that Friday lives in the same area with the 19-year old girl at Epe, Lagos State.
On the day of the incident, the girl's father sent her to the farm. But Friday went after the teenager seeking her hand in love all the way to the farm.
But the deceased resisted his love advances and stood her ground until she got to the farm. At the farm, Friday allegedly hit the teenager with a plank and she fell down and became unconscious.
In her unconscious state, Friday allegedly had sex with her twice. Eventually, the girl died.
Her father and relations later organised a search party and discovered the deceased's corpse in the farm. But her assailant, Friday, hid in the farm after allegedly committing the crime.
Immediately he returned home, Friday, whose uncle is married to the deceased's sister, was arrested on suspicion that he might have killed the girl since the girl's father had warned Friday several times to keep off his daughter. The suspect was arrested and handed over to the police at Epe Division for investigation.
According to sources, Friday allegedly confessed to the crime saying, "I knew when her father sent her to the farm. She was my neighbour. Her sister is married to my uncle. I followed and wooed her until we got to the farm but she refused to yield to my advances."
Friday also told the police that he was at the farm when the girl's father came looking for her and when he heard his voice, he went into hiding and remained in the farm for four days.
The suspect said his sister was raped sometime in 2007. But when policemen asked him if that was the reason he decided to rape his sister-in-law, Friday said he did not know what went wrong with him, adding that his sister was hospitalised when she was raped and she did not die.
After a preliminary investigation, the police at Epe Division transferred the matter to SCID, Panti for further interrogation.
—Lucky Lawal

Load more