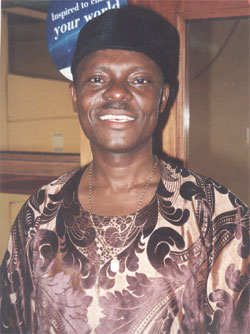 As part of efforts to immortalise Gbenga Adeboye, Toba opaleye, kola Olawuyi and others, the national executive council of Freelance Independent Broadcasters Association of Nigeria (FIBAN) has declared a one-week remembrance programme for its deceased members from 29 April to 5 May, 2012.
Speaking through the Lagos state chapter chairman, Yomi Mate (Ifankalelluyah), all members have been directed to treat Gbenga Adeboye's 9th death anniversary on their various programmes across the nation as they air his past works to honour him.
Also, the late Toba Opaleye's only effort titled: Aso Esu Beleke, is also to be trailed by airing it to honour him on his 6th death anniversary which is regrettably coincident with Adeboye's.
Yoruba comedian cum presenter extraordinary, Elijah Olugbenga Abefe Adeboye, died for six hours on 6 October, 2002, before he finally passed on Wednesday, 30 April, 2003 while the Abeokuta, Ogun State born ace radio presenter, Alhaji Tajudeen Atobatele Opaleye, died three years after on 29 April, 2006.
-Kayode Aponmade

Load more