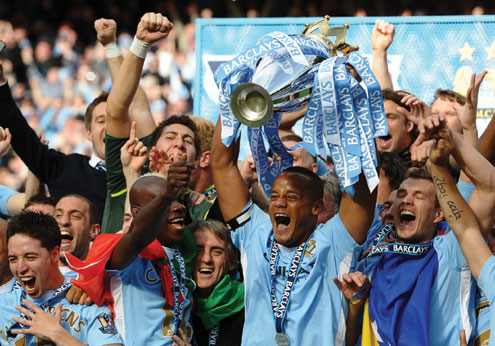 Roberto Mancini celebrated Manchester City's first English league title in 44 years with a succinct summary of his team's 3-2 victory over QPR at Eastlands – "a crazy finish for a crazy season.
"The best team won the title. I think we played the best football, scored most goals, beat United two times. When you beat them twice, when you score more goals than them, let in less goals, then you deserve it.
"I am very proud of my players. They wanted to win this title and they worked hard for this, they were working until the last second of the last day. To beat a strong team like United is fantastic. I think it will change the history of this club and for this we should be proud."
City scored twice in injury time, through Edin Dzeko and Sergio Aguero, to make sure they won the title on goal difference from Manchester United, whose 1-0 victory at Sunderland had concluded seconds before the final goal at the Etihad.
"That was a crazy finish for a crazy season," said Mancini after City won the title on goal difference. "I've never seen a final like this.
City captain, Vincent Kompany, referencing the many occasions on which United have won trophies in such dramatic circumstances, also coined a neat phrase to sum up events at Eastlands. "Miracles do happen in Manchester," he said. "But on this side of the road, this time.
"This is one of the best moments in my life but please never again this way, please. We have been so good this season, we have been incredible, especially at home. Then all of a sudden in this game we couldn't get through.
"But for some reason we have done it before this season and I never stopped believing. Never ever did I stop believing.
"When we scored that goal, it reminded me of the game against Tottenham when we won (3-2) in the last minute and against Sunderland, we came back from two down (to draw 3-3). We have done it before so we had no reason to not believe."
Among Mancini's many achievements, his ability to take on United manager Sir Alex Ferguson in the realm of mind games has been particularly impressive.
For many weeks, until a pivotal win at Newcastle United in the penultimate game, Mancini had insisted United were overwhelming favourites and City had no hope of winning the title.
"I never believed this," said Mancini. "I said this because I wanted to take the pressure off us for three or four games because I was sure we would have another chance before the end of the season.
Meanwhile, in congratulating Manchester City, Sir Alex Ferguson reminded them that they have a long way to go before they can be considered Manchester United's equals.
The United manager could not resist comparing his club's reputation as serial winners with City, who have lifted the title for the first time in 44 years.
While Ferguson grudgingly acknowledged City had legitimate cause for celebration, he insisted the blue half of Manchester still had plenty to do before they could rival United's history.
"They can go on as much as they like – that's what you would expect – but the history of our club stands us aside," Ferguson said. "We don't need to worry about that. I think we have a rich history, better than anyone and it'll take them a century to get to our level of history."
Even at 70, Ferguson is determined to be the man who tries to halt City's attempt to repeat their success next season. "We accept challenges. We are good at that," said Ferguson.
But he was gracious in his praise of City's achievement, saying: "On behalf of Manchester United, I would like to say congratulations to our neighbours. "It's a fantastic achievement. This is not an easy league. It's the hardest league in the world, and anybody that wins it deserves it.
"At the start of the season, if I remember correctly, I said 82 points would probably win the league this season and we are seven points ahead of that. But look, it doesn't matter, we've lost the league.
"It is a cruel way to have the title ripped away, but I've had a lot of ups and downs in my 25 years here. There will be times when we can sit back and say we did this wrong, we did that wrong, but 89 points would have won the league most seasons."

Load more