In a dramatic show last Sunday 13 May, Tanzanian housemate, Hilda, who was supposed to be the Head of the Downville house this week became the first to be evicted alongside her compatriot, Julio, in the ongoing hit television reality show, Big Brother StarGame.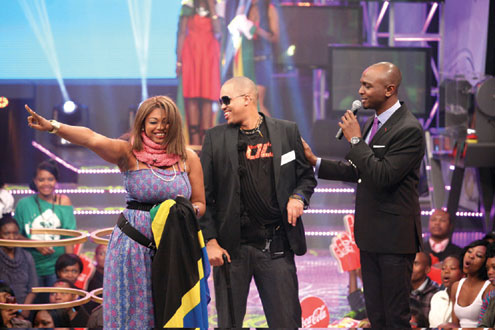 The pair got the boot together with Zimbabwean housemate, Teclar, during Sunday's show held inside Sasani Studio in Johannesburg, South Africa.
After a roundup of an adventurous, entertainment-filled first week of season seven of the reality show, the expected surprises.
Already, Sierra Leonean pair, Zainab and Dalphin and Liberian's Luke and Yadel, also have their heads on the chopping board and face possible eviction next Sunday.
Zimbabwean pair Maneta and Teclar were the first to be asked by IK, host of the show, to leave the house and join him on stage. Teclar told host, IK, that she didn't want to talk but when asked if she had a thing for Seydou, she was quick to explain that she didn't have any romantic feelings for Seydou or any other person in the house. She added that it was particularly tough for her to find out that she had been nominated for eviction only minutes after entering the house.
And just when the rest of the housemates thought Big Brother had finished casting his painful eviction dice, the Tanzanian pair were ordered to leave the house and join him on stage. The announcement that they had to leave sparked speculations as housemates tried to figure out what was happening.
After the results of last week's votes were handed over, IK asked Maneta to leave the stage with her fate hanging in the balance. Apparently, she had been saved from eviction and moved from the Downville house to the Upville house which had seven celebrities as housemates.
Teclar was evicted first, followed by Julio and then Hilda.
Big Brother once again applied the newly introduced Advanced Random Nomination Mechanism during the eviction show.
When the draw was done, the debutant countries, Sierra Leone and Liberia came up for eviction. Thus, Sierra Leonean pair, Zainab and Dalphin and Liberian pair, Luke and Yadel became the latest housemates to face possible eviction come next eviction night on Sunday.

Load more