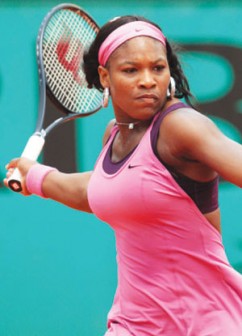 Serena Williams, who withdrew on Saturday prior to the Rome Masters semifinal with China's Li Na, has declared that she will be ready for the French Open next month.
"I'm fine, I'll be 100 percent for the French," said 30-year-old Williams, who added she pulled out to make sure she didn't aggravate the injury.
"I've been feeling a little pain this week and I have a huge schedule coming up," said the American who was on a 17-match win streak on clay," she said. Meanwhile, Serena and Li Na inched up in the final women's world tennis rankings the Monday before the French Open seeds are determined.
Serena, who advanced to the semifinals of the Italian Open before withdrawing due to a back injury, is fifth, up from No. 6. Li, the defending French Open champion who was given the semifinal walkover when Williams withdrew, lost a third-set tiebreaker to Maria Sharapova in Sunday's Italian Open final. She goes from ninth to No. 7 in the rankings.
World No. 1 Victoria Azarenka, who took over the top spot after winning the Australian Open in January, will be the top seed for the French Open while Sharapova is second.