Bermuda swimmer Roy-Allan Burch insists he's in the best shape of his life ahead of the Olympic Games.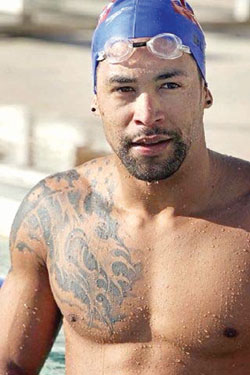 Burch stepped up his preparations for London 2012 by winning all four of his events at last weekend's Bermuda Swimming National Championships.
He set new national records in the 100 metres freestyle, 50 metres butterfly and 50 metres freestyle.
And while he is keeping his cards close to his chest on his specific targets at London 2012, the 26-year-old is confident of making his country proud.
"I'm ahead of where I was last year by quite a bit which is positive. I had such a large improvement last year so for me to be ahead and still improving is encouraging," said Burch, who represented the Island at the Beijing Games four years ago.
"I do have some targets but I tend to keep those between me and my coach (Ben Smith). Hopefully my targets will put me in a place I need to be."
There's been no desperate rush to try and qualify for the Games for Burch who met the standard in the 50 metre freestyle months in advance of this summer's competition.
That luxury, he believes, has ensured his pre-Games build-up has been stress free and afforded him precious time to fully focus both in the pool and the weights room.
"(Qualifying early) just helps me focus on the Olympics and not have to worry about much else outside of that," said Burch, who has spent time working with world-renowned swim coach David Marsh at the Mecklenburg Aquatic Club in Charlotte, North Carolina.
"I've been trying to race every month and right now I've been getting quite a few races in close to each other which will help with my preparations.
"I'll be trying to stay in the weights room right up until I leave for London and just be making sure I stay focused and fast."
Competing at the British National Championships in March enabled Burch to familarise with the layout of the of the Aquatics Centre in Stretford.
With its distinctive architecture and curved roof, the £242 million centre will be the first venue visitors see upon entering the Olympic Park.
"I was there in March, I swam in the pool and know the layout and everything and that helps me just focus on what I need to do.
"I have had a great build-up to the Games; I competed in California a few weeks ago and it's great to be back on the Island to see my family and be refreshed."
While Burch accepts he is approaching his peak as a professional athlete, he firmly believes his best years are ahead of him.