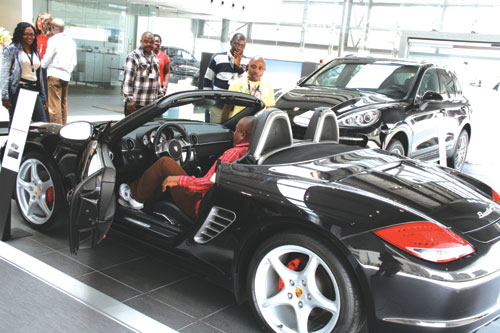 Porsche Centre, Lagos, Nigeria's authorized Porsche dealership has cautioned local automobile enthusiasts against buying vehicles from overseas' dealerships, warning such patrons of untoward problems associated with untropicalized vehicles, otherwise known as 'grey' imports.
Mr. Michael Wagner, Brand Manager, Lagos Porsche Centre made this charge in Lagos during a guarded test-drive of delectable Porsche models by Nigerian automobile journalists. The automobile media test drove the 2012 Porsche Cayenne V6 model and Panamera exotic sedan form the Victoria Island showroom through Chevron Estate at Lekki Peninsula to Banana Island and returned to the Porsche Centre.
He said evidence has shown that vehicles designed to Euro 5 specifications (latest European Standard) rarely perform optimally in the tropics due to the lower grade of fuel and inadequate octane level as well as exceptionally harsh environment of the tropical region, Mr. Wagner explained.
The brand manager said only Porsche automobiles built to Euro 4 specifications with corresponding emission levels are imported and sold in Nigeria to cater for the lower octane level and quality of fuel that is available in the country.
Wagner said: "With as little as 20 percent deposit and an average monthly payments as low as N398,000 evenly spread up to 60 months, an automobile enthusiasts could become a proud owner of a Porsche car. And like every other Porsche dealership worldwide, Porsche Nigeria offers customers complete tropicalized model range with efficient air-conditioning cooling system and sturdier suspensions to cater for the challenging driving conditions in Nigeria.
Wagner however dismissed insinuations that Porsche is overpriced, remarking that "Porsche cars are affordably priced with the new Boxster for instance, selling at N12.2 million while Cayenne begins from N16 million and the Panamera's starting price is N25 million.