Nigeria's Minister of Sports, Bolaji Abdullahi, is optimistic that the country's team will do well at the 2012 London Olympics.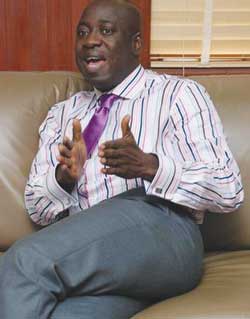 Abdullahi is happy with the level of preparations by the various sports federations, and believes Team Nigeria will win medals at the London Games.
"I am very confident that we are going to do well at the Olympics. You remember when I was still the supervising minister, people asked me how was the preparation, I was not so sure but with what I have seen so far, I am confident that we are going to do well.'' The sports minister said.
Abdullahi said he was not pledging medals haul at the games, but that there was hope of winning medals in some games.
'' I am not in a position to promise medals. The various federations have promised me medals. But I am not going to start saying, this is it. In boxing, I am very sure we are going to do well. I am confident we are going to do well in wrestling. I am confident we are going to do well in female boxing especially. I am also sure that we are going to do well in weightlifting.
"Our athletes are going to Port Novo next week for the All Africa Open. So, I am confident that the preparation that we have made so far is enough to take us somewhere,' he said optimistically.
''I believe that we are going to do very well. I am not saying that we are going to be where we should be. That requires greater work than we have done. But I am confident that Nigeria will do well in this Olympic Games,'' the minister  said in an interview monitored on voiceofnigeria.
Meanwhile, the Nigeria Basketball Federation, NBBF,  has outlined the itinerary for the men's basketball team,  D'Tigers, ahead of the London 2012 Olympic Games qualifying tournament in Venezuela.
D'Tigers, who have been on a training tour of China, will head to Houston, the United States, to play against Great Britain's national team today.
Thereafter, the team will travel to Brazil for a 4-Nation Tournament, scheduled to hold between 25 and 30 June, where they will face Greece, New Zealand and the hosts, Brazil.
They will then head for Venezuela for the London 2012 Olympic Games Basketball event qualifiers, billed from 2-8 July in Caracas.
D'Tigers, made up of 8 foreign-based players and 3 home-based stars, earlier featured in some build up games against Foshan Long Lions Basketball club of China on 9-13 June, which they won by 84-54, 74-47 and 110- 67 points respectively.
They also defeated Fujian Quanzhou Bank Basketball club by 84-56 on 14 June before beating Shanxi Zhongyu Basketball team 94-80 on 16 June, in what seemed like the toughest build up game in China.
Drawn in Group B of the qualifiers, the Ayo Bakare-led team will face Lithuania and the hosts, Venezuela.

Load more