Two of the Britain's brightest young athletics stars, Robbie Grabarz and Lawrence Okoye, will step up their preparations for their first Olympic Games by competing at the Aviva London Grand Prix in Crystal Palace on 13-14 July, the eight stop on this year's Samsung Diamond League circuit.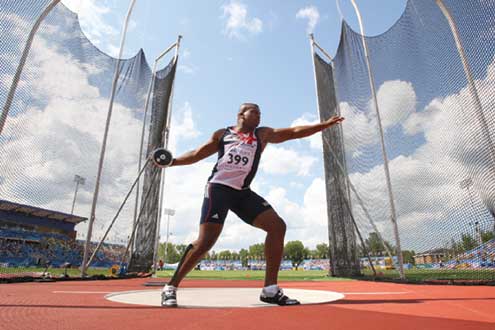 Grabarz, currently the world's second highest jumper this year, and Okoye, the world's fourth discus thrower, have enjoyed an incredible 2012 that was capped off on Sunday when both men won their events at the Aviva 2012 Trials and sealed their qualification for the London Olympic Games.
24-year-old Grabarz, fresh from soaring to a personal best 2.36m at the New York Samsung Diamond League meet earlier this month – the highest a Brit has jumped in 13 years – is now a strong medal contender for the Olympic Games and enjoying his craft more than ever. Having won his only other Samsung Diamond League event this year in Rome, Grabarz is excited to put on a show against the world's best on British shores.
He said: "I'm really looking forward to jumping in the Aviva London Grand Prix. It'll be great fun and there's always a crazy atmosphere at Crystal Palace with a packed home crowd. I imagine that this year will be even more special.
"I want to be known as one of the great high jumpers and you've got to jump high consistently against the best in the world to be that. I'm on my way now in that regard, and the London Diamond League meet will be another chance for me to prove my credentials."
Lawrence Okoye, meanwhile, has enjoyed a prodigious 12 months after breaking the British discus record as a teenager last July. Having bettered that mark this year and shown that he knows how to perform when it matters, Croydon native Okoye will be one of the top draws when the athletics world's eyes turn to south London on Friday 13 July. And Okoye does not intend to disappoint.
"The Aviva London Grand Prix will be a good opportunity to throw against the best guys in the world and a great place to try to throw really far again.
"It's my home turf so should be really good fun with a lot of home support. I've got to get used to competing here now that I've qualified for the Games and that's a great place to start."
Already amongst the world's best at what they do, what both men have in common is a determination to fulfill their potential and reach the pinnacle of their sport.
Grabarz explains: "I'm competitive and it's nice to be pushed by the top few guys in the world. I like a challenge and jumping against these guys gives me that extra bit of motivation, so I'm really looking forward to taking them on again and putting on a show in south London."
Despite already holding the tag of Britain's greatest ever with the discus, Okoye feels that he has only just scratched the surface of what is possible and will be working as hard as ever in order to impress at Crystal Palace ahead of a home Olympics.
The 20-year-old said: "There's a lot more to see from me this summer. I'm just going to keep my head down for the next few weeks and hopefully come up with something big."
Grabarz will be joined in the high jump competition at the Aviva London Grand Prix by fellow Brits Samson Oni, Tom Parsons and Martyn Bernard.
Okoye will line up alongside compatriots Abdul Buhari and Brett Morse in the discus.
The men's discus will take place on Friday 13 July, with the men's high jump on Saturday 14 July.