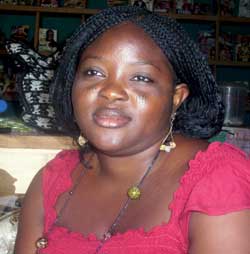 Queen Halimot Omowura, the singing daughter of Apala music sage, the late Alhaji Waidi Ayinla Anigilaje Omowura also known as Ayinla Omowura will on Sunday, 8 July, 2012 launch her debut album titled: Apalagbode.
Halimot disclosed to P.M. Entertainment that the official presentation of the album will take place at White House, Toyin Street, Ikeja, Lagos, southwest Nigeria.
The musician said she chose to sing Apala music not because her late father was a popular and highly revered Apala musician but because of the challenges and its acceptance in the whole southwestern Nigeria and West Africa.
Sadia who holds a certificate in Junior Community Extension Works from Ogun State School of Health, Ijebu Ilese in 1995, started a career in music in 2002 and took her 10 years to debut. "Apala music genre is rigorous and requires great intelligence to drop a flawless album," she said.
She stated that she looks forward to being the first crowned Queen of Apala music, adding that what a man can do, a woman can do it better.
Top artistes expected to add glamour and glitz to the occasion include Abass Akande Obesere, Shefiu Alao, Wasiu Alabi Pasuma, Musiliu Haruna Ishola, Sule Alao Malaika and female musician, St. Janet among others.
—Kayode Aponmade

Load more