Serena Williams, who won her 14th Grand Slam singles title at Wimbledon on Saturday, was preparing for a change of scene this week with her hard-court WTA title defence at Stanford.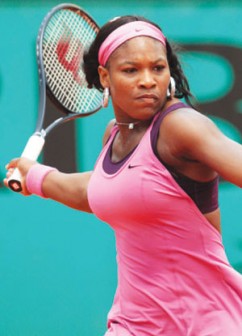 Organisers said top-seeded Serena would launch her Stanford campaign tomorrow, giving her a bit of time to catch her breath after defeating Poland's Agnieszka Radwanska in the women's singles final on the grass courts of the All England Club.
Serena, who also teamed with sister, Venus, to win the Wimbledon women's doubles title, suffered through two foot surgeries and blood clots on her lungs in 2010-2011 before returning to tennis just over a year ago.
She seemed eager to ride the momentum of her Wimbledon triumph at the famed Californian university.
"Just let me do a little bit at a time," she said. "I have never felt better."
Serena, who has a first-round bye as one of the top four seeds, will face either US wild card, Nicole Gibbs, or Thai qualifier, Noppawan Lertcheewakarn, in her second-round opener.
The 30-year-old American, who has risen to number four in the world rankings, was booked for her first practice session early today as she makes a brief switch from grass to hard courts.
Later this month she will return to London where the 2012 Olympic tennis competition will be held at Wimbledon starting on July 28 — one day after the Games' opening ceremony.
Sandwiched this season between Wimbledon and the Summer Games, Stanford has suffered a rash of withdrawals.
France's Marion Bartoli, the 2009 winner, is the second seed, followed by Slovakia's Dominika Cibulkova and Serbian Jelena Jankovic.

Load more