One year after emerging as the winning band of the 2011 edition of Star Quest, Nigeria's first and only band-based music competition, The Beat, has finally unveiled its debut album.
The album, titled Da Beat Goes On was officially presented to the public at a popular Lagos hangout, The Place, with an impressive list of music personalities in attendance.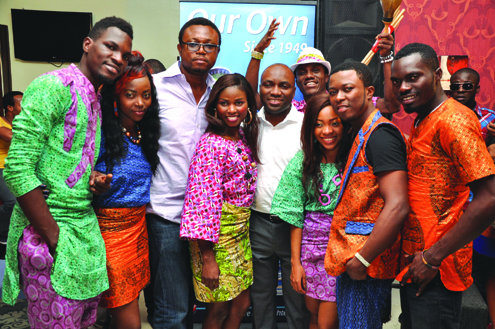 The 10-tracker, which contains songs like Oyoyo, How You Make Me Feel, Kolobi and Nkechiyem, among others, was produced by some prominent names in the Nigerian music industry. They include Paul Play Dairo, Del B, Phat E, Dekumzy and F.B. Rex. The video of one of the tracks, Oyoyo, was also officially unvieled at the occasion.
Sammie Tochux, the band leader, described the album as "the dawn of a new era" in the band's life, stressing that the band has had an amazing journey so far and are happy to have finally released an album. He expressed gratitude to Nigerian Breweries Plc, organisers of Star Quest, for coming up with the talent hunt competition. "Without Star Quest, we would probably still be struggling on our own but today we are able to launch this album just because of the platform that Star Quest has given us," he stated.
Present at the launch was ace rapper Mr. Raw, who performed alongside hilarious comedian, Klint The Drunk. Incidentally, both Mr. Raw and Klint The Drunk, were finalists at the first edition of Star Quest held over 10 years ago. They entered the competition as a group known as The Comedians. The event also had upcoming rapper, Butterfly, who thrilled the audience on the night while TV/Radio presenter, Andre Blaize, stepped in as MC for the night. Crystals, the 2012 Star Quest winning band, was on ground to support its predecessor.
Obabiyi Fagade, Brand Manager, Star, Nigerian Breweries Plc., described the event as a fulfillment of the Star brand's promise to the band for winning the competition.
The BEAT has female vocalists Beauty Aghedo, Charity Adubi and Enid Eyube, alongside keyboardist, Justice Adigho, drummer Efetobor Ojarigho and bassist/bandleader, Sammie Tochux. They were rewarded with a cash prize of N3.6m and a recording contract worth N7.5million among other prizes.
—Funsho Arogundade

Load more