Heartbroken long distance runner, Tony Wamulwa has described as painful the harsh reality of missing out at the London 2012 Olympic Games which kick off on 27 July to 12 August.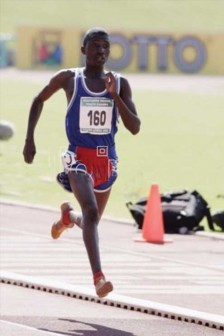 And Zambia Olympics contingent team doctor Gabriel Muyinda has said Wamulwa suffered an open dislocation on his ankle and that the wound would take about 12 weeks to heal.
Wamulwa said in an interview at the University Teaching Hospital (UTH) yesterday that it was painful to miss the Olympics Games having prepared for the event for sometime but was hopeful of a speedy recovery.
The 5, 000m specialist said he would now concentrate on qualifying for the Rio de Janeiro 2016 Olympic Games as he would have fully recovered by then.
"It is really painful to miss the Olympics Games having earned my qualification. I am consoled because the injury was not as bad as I thought because at first I was sure that it was broken.
At first I did not realise that my ankle was dislocated after the accident until later when my friends started moving away from me. It was a terrible. We had a tyre burst as we just passed Chisamba area and before we knew it we had overturned several times. I will wait for the recovery process but I will definitely qualify for the next Games," Wamulwa said.
Load more