A seminar organised by the Yoruba Video Film Producers, Marketers Association of Nigeria, in memory of the late Muyiden Alade Aromire has come and gone but the memory will forever linger in the mind of those that attended it.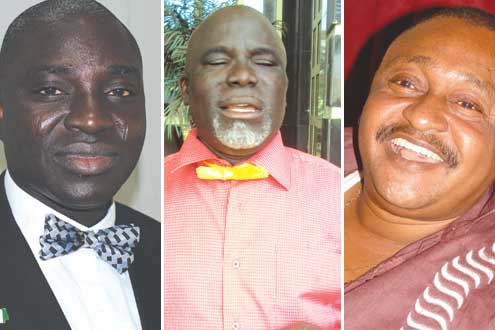 Tagged capacity building workshop for the Yoruba film marketers/distributors, "Digital marketing: The new challenges", the resource persons were drawn from different fields of endeavour like law, production, distributions, Video censors board and on-line experts among other areas.
Held on Wednesday, 11 July, 2012, at the Mainland Hotel, Oyingbo, Lagos, southwest Nigeria, the resource persons namely, Copyright lawyer, Barrister Akeem Aponmade, spoke on "Copyright and you", Pastor (Mrs) Remi Ibitola spoke on "Effect of piracy on intellectual property", Pastor Cyprian Orakpo spoke on "Technological development and it's effect on Nigerian movies", Barrister Tunji Bamishigbin dwelt on "Effect of sub-title on indigenous movie in Nigeria," and Tunde Kelani, on "Indegeneous movie in the Diaspora".
Though the resource persons gave a good account of themselves, the most important aspect of the programme was the question and answer session in which members of the audience sought clarifications to some technical aspects of the seminar. The high point of the session was when Jide Kosoko replied the lawyer and star actor, Tunji Bamishigbin, who had earlier thrown a jibe at the elders of the Association of Theatre Art Practitioners of Nigeria (ANTP), saying it's high time the elders like Kosoko, Adebayo Salami and others threw in the towel and handed over the administration of ANTP to their children who are in the acting profession. "To me, ANTP is as good as dead," he said.
Kosoko replied that ANTP is intact, saying "though we have a pending court case, those ones  will be resolved soon. My tenure has expired and I have no intention to extend it and for your information, I m still in charge, I'm the de facto president of ANTP; the association is not dead and  I am not ready to retire now."
In his closing remarks, the Director General, National Film and Video Censors Board, Emeka Mba, gave kudos to the Toyin Uthman-led YOVIFPMAN for organising the seminar.
Mba was also given an award for excellence while the late Aromire was given a post-humous award.
Anchored by Dare Esan of Okiki Film and Femi Jolayemi of Jewiton Films, the seminar was attended by actors, actresses, marketers, producers and others.

Load more