One of Nigeria's youngsters at last year's African Junior Championship, AJC Qualifiers, Martins Abamu told DAMILARE OKUNOLA why he could naturalize if the opportunity comes his way
What prompted your love for tennis?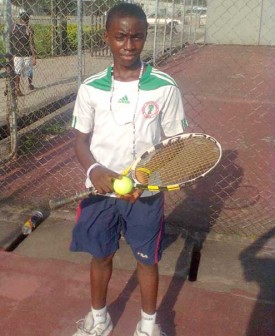 I was introduced into the game since I was two years old by my father, but I began to play active tennis when I was nine. My dad really encourages me to get on in the game since then.
You participated in some tourneys recently?
I've played in some tournaments such as ACES, qualifying competitions for the African Junior Championship, AJC, and the Junior Masters. I come to the National Stadium to practice with my coach whenever I'm not busy in the school. I've also been to Abuja to play a couple of competitions.
What tournament are you preparing for now?
I'm preparing for a tournament which will take place in Senegal very soon. It's a West Africa championship. With what I was told, I may likely be the only player who will play in the tournament from Lagos.
Who is your role model in the game?
Andy Murray is my man anytime anyday. I like his movement on the court and the passion he puts into his game is awesome. His forehand is superb and I try to emulate him as much as I can. I hope I can play like him.
What challenges have you been facing?
One major challenge I've faced as a young player was when I was asked to play in the U-16 category instead of U-14 in a particular tourney. I could not do well in the competition and I was really sad because I felt I would have fared better if I were to play in my age group. Another challenge is that of sponsorship. This is so painful.
How do you combine education with tennis?
It's been very tight for me because I only come to the stadium when I'm not really busy in the school but whenever I'm busy, I don't get to play tennis. I come to the stadium every Friday after school and Saturdays.
Is it only your dad that supported your ambition as a tennis player?
Every member of my family is supporting me. My coach, Mike, is also one of the people who have really supported me.
How far  did you go at the AJC qualifiers last year?
When I first played the qualifiers in the U-14 category, I won in the final but when I was asked to play the U-16, I lost woefully. Though the tournament was my first at such a high level, I felt I would have fared better had the coaches allowed me to play at the U-14 category. I would have qualified to play in Egypt if I had played in my category but that was not to be.
How do you see Nigerian tennis?
I'm not in any way satisfied with what the country has to offer as far as tennis is concerned. There is dearth of tournaments in Nigeria and the junior players are not given the opportunity to play in circuits outside the country because there are no sponsors.
 How well do you think you can fare at the tourney in Senegal?
I will do well and there's nothing stopping me because I know I've the skills to do well at any tournament. My forehand and backhand are good, couple with my great serves. I believe these  are the basics to win matches in tennis.
So, why are you sad about this country? 
I'll play for another country if the opportunity comes my way. There is nothing in this country as far as tennis is concerned. When I said I'll play for another country, I did not meant Togo or Benin Republic; I meant big countries like France or England because the people at the top in Nigeria are not interested in the growth of the youths.

Load more