Nollywood actress, Elizabeth Daniels recently hosted friends and colleagues to a classy birthday party at Shaunz Lounge, an upscale rendezvous in Murphy's Plaza, Victoria Island, Lagos.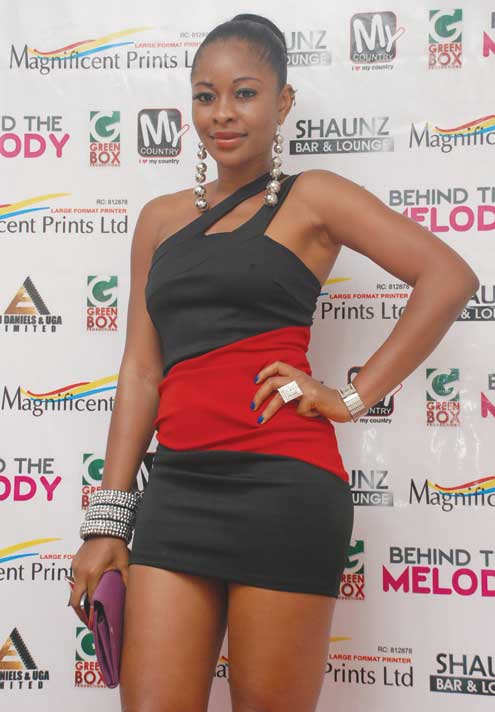 Before the all-night party, Lizzy, as the actress is fondly called, had visited a Lagos-based orphanage, where she donated gift items to the less-privileged children.
Some of the celebrities that added spice to the birthday party included Ruggedman, Faze, May D, Charles O'Tudor, Ini Edo and Tony Okoye, the Chief Executive Officer of Ajeh Clothing among others.
It was a double celebration for the actress as she also showed the preview of Behind The Melody, her debut movie as a producer.
The multi-million naira flick, directed by Moses Ewang, starred actors including  Lizzy,  Ini Edo and Jim Iyke, to mention a few.
According to Ini Edo, "Elizabeth is a fantastic actress. She is a fast learner. Behind The Melody may be her first film as a producer, but I can assure you it would be a blockbuster. What she has proved is that to succeed in this industry is not a matter of how long, but how well you do things.
"We are all happy to celebrate her birthday with her because she really deserves such honour. I strongly believe that the sky will be her starting point.
NollywoodReel had an interview with the Obudu LGA, Cross River State-born Elizabeth shortly before the party, and she spoke about her movie and other issues.
It is a double celebration for you today; showcasing your movie and celebrating your birthday as well. How do you feel?
Well, anybody in my shoes right now would feel very happy. I am very excited and I owe all these to nobody else but God.
Behind The Melody is your first film as a producer. What can you tell us about it?
It is a film shot early this year in Cross River State, Calabar and starred Ini Edo, Jim Iyke and Millicent, a former Big Brother contestant from Kenya. The story is about kids in the orphanage and how they can grow up to be successful in life. The movie is a kind of hope and encouragement to the less-privileged kids. The story is a way of telling the children out there that they should not be bothered about where they come from, but what they can become in future. So it is a movie every parent needs to watch and also advise their children to watch.
Why did you choose a story that centre on the less privileged kids?
Looking at me, nobody will even believe that I would do a film like that. In fact, people would barely recognise me in the film because of the character I played. Everybody sees me as a glamorous girl, so they are shocked that I came out with a film of that nature.
I will just say it is the grace of God; He has a purpose for giving me an idea to tell such a story. It is also inspired by a true life story. I visited an orphanage on 1 October in Cross River State. When I was playing with the kids, I noticed a little girl in the orphanage wasn't happy and didn't participate in the games. After much persuasion, she told me she refused to participate in the games because others kids dislike her because she is ugly. So I decided to dig deep into it.  Though the girl  is still young, I decided to make the character bigger.
What do you intend to achieve with the film? 
Everything I do is not all about business- I have a passion to do meaningful movies. I have a passion to reach out to people and change their lives positively through my movies. It is not only  about those in the orphanage, everybody has a story to tell. But this movie in particular will touch the lives of  many people.
Tell us about your foray into the movie industry?
I came into the industry just like every other girl who has the dream of becoming a star. When I was growing up, my father wanted me to become a lawyer, but at a point I  became interested in acting when I went to a movie location to get my house key from a friend and I  was invited to audition for a film.
From there, thanks to Charles O'Tudor, who later gave my contact to Desmond Elliot ,who took me to Emem Isong, a movie producer. They said I'm a talented actress but still needed a formal training. So I went to Royal Arts Academy where I studied acting and after that, the jobs have been coming. Emem Isong is a wonderful producer and I learnt all I know now from her.
Behind The Melody is your first flick as a producer, which one was your first work as an actress?
It was Cat Walk produced by Emem Isong
In the next five years, where do you see Elizabeth Daniel?
Five years is a  lot of years. Some people may not make it within that five years, but I trust my God to see me through.
In the next five years, I see myself very tall in my career and people all over the world will acknowledge that I have done something great.

Load more