Nigeria's gold medalist at the just concluded 2012 Paralympics Games, Grace Anozie has revealed that she  almost quit sports before the Games, while expressing excitement over the cash reward she got from the  Federal Government.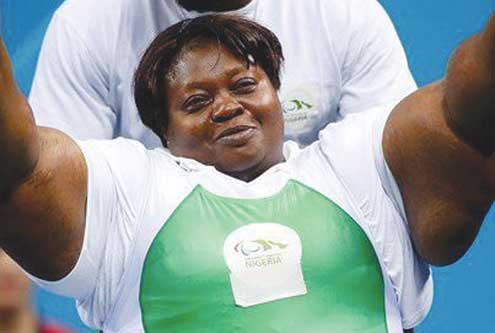 President Goodluck Jonathan at the weekend showered a naira rain on Team Nigeria's contingent to the Games  where athletes that won Gold medal received N5million and a national award of Member of the Order of Niger,  MON, while Silver medalists got N3 million Naira each and Bronze medalists pocketed N2million Naira each.
The reward was not limited to the medals winners alone as those athletes who were not able to win any medal  received N500,000 each, while their coaches got N2.5million each.
Speaking on Rainbow FM early today, the physically challenged athlete said: "I am very happy and feel great  to be rewarded by Mr.  President for my effort in London after I've been fighting for years to get my hands  on a gold medal at the Games. I almost stopped participating in sports before the London Games after I was  robbed in Beijing, and for winning medals for Nigeria with nothing to show for it."
According to Anozie who won bronze eight years ago at the Athens 2004 Olympics and Silver, four years ago at  the Beijing Olympics: "It is not easy to perform with disability but with a lot of endurance and  encouragement one can make it at the Games."
The university graduate, however, advised other athletes with disability to desist from begging on the  streets, saying: "My advice for disabled persons not to let things around them discourage them. They should  desist from begging on the streets because begging is not the solution to disability. They should come into  sports because gone are those days when we participate in sports while other would reap the fruits of our  labour."
—Bamidele  Olowosagba