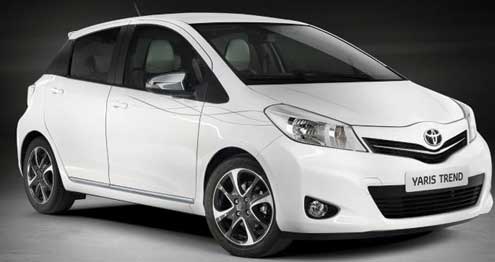 Ahead of the Paris Motor Show next month, Toyota Motor Corporation has released details of its debutants at  the show. The all-new Verso MPV and the Yaris Trend will headline their participation at the Paris Motor  Show.
According to Toyota, the Yaris Trend is styled to target "younger, design-conscious customers". So, in order  to distinguish the Trend from the rest of the existing range, Toyota has added chrome elements in the fog  light surrounds and headlamps, while versions with white paint have matching white covers in the headlamp  units.
There are new alloy wheel designs and blacked-out B and C-pillars, as well as a 'Deco' line which runs back  from the headlights across the Yaris' sides. A roof spoiler and tail-lights – inspired by the Yaris Hybrid –  complete the exterior makeover. Inside, the Trend model gets a black, white and ochre colour scheme  throughout, upgraded upholstery and new soft-touch materials on the dash. The 'Deco' stripe makes an  appearance on the dash, too.
With its exterior styling elements and dedicated interior finishes, textures and colours, it's aimed at  younger customers for who make fashionable design a priority. As well as having distinctive looks, Yaris  Trend retains the fundamental qualities that set it apart from the supermini pack. It may be the most compact  car in its class, but clever Toyota packaging means there is class-leading space inside. It also has the  tightest turning circle – 4.7 metres – making it a master of manoeuvring in tight city streets and parking  spaces.
Yaris Trend has been styled to amplify the most dynamic elements of the Yaris range, reinforcing the  vehicle's distinctive character by emphasising the horizontal lines and strengthening the link between the  interior and exterior design. The model retains its blacked out B and C-pillars that create a floating roof  effect, and there are chrome door sills and door mirror covers. The interior styling reflects the design  theme outside, with a black and white finish to create a clean style.

Load more