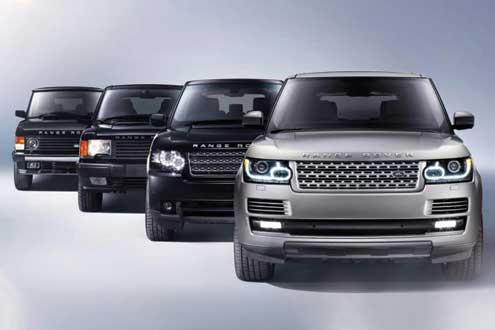 Land Rover launched its all-new Range Rover at a dramatic event held at The Royal Ballet School in Richmond,  London. According to Land Rover, the fourth generation of the iconic Range Rover line "takes the capabilities  of the marque's flagship to a new level, with even greater luxury and refinement, enhanced performance and  handling on all terrains, and significant advances in sustainability."
The all-new Range Rover is just under 5m long and has a very similar footprint to the outgoing model, but  with a smoother and more streamlined profile. The cabin retains its luxurious interior and offers 118mm more  legroom in the rear compartment.
The new Range Rover can be extensively tailored with an indulgent choice of colours, finishes and special  details, from the immaculately-trimmed colour-themed interiors of the exclusive Autobiography series, to the  stylish range of alloy wheels up to 22 inches in diameter.
The new vehicle has the next-generation version of Land Rover's Terrain Response system, which analyses the  current driving conditions and automatically selects the most suitable vehicle settings. The vehicle's wading  depth has been improved by 200mm and is capable of towing a 3500kg trailer.
Customers have a choice of a petrol 375kW LR-V8 Supercharged and two diesel (3.0-litre 190kW TDV6 and 4.4- litre 249kW SDV8) engines, all of which are now paired with a smooth and responsive eight-speed automatic  transmission. Land Rover claims that the smaller powerplants provide a 22 per cent reduction in fuel  consumption and CO2 emissions with claimed figures of 7.5 l/100km and 196g/km.
By Daniel Ekugo

Load more