One of the three armed robbery suspects allegedly caught with huge arms and ammunition, Uche Okeagbu, 23, has allegedly confessed that he got a total of N2 million from three robbery operations.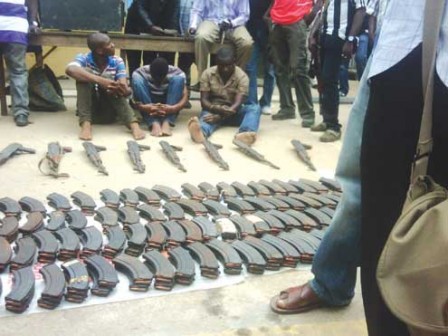 The police said the suspects were members of the gang that carried out the Rambo-style robbery operation in Lagos on Sunday, 9 September during which several policemen were shot dead.
Uche, who was paraded along with Emmanuel Ezeani, 23, and Chinonso Nwagwu, 23, allegedly told his interrogators that he participated in bank robberies in Ibadan and Uyo and his share was N500,000 and N800,000 respectively.
The police also said Uche confessed that he was involved in the robbery at First Bank, Shere, Kwara State, where he was given N800,000.
The three suspects, who were arrested in Lagos with rocket launchers and different kinds of weapons, declared that they are not members of Boko Haram sect.
Speaking with P.M.NEWS when they were paraded Tuesday by the police in Lagos State, Southwest Nigeria, they said they had nothing to do with the Islamic sect.
The police at State Anti-Robbery Squad, SARS, recovered two buses the suspected robbers were using as their armoury: They were specially built for hiding their weapons.
The Lagos State Commissioner of Police Mr. Umaru Manko told journalists in Lagos that the vehicles and the weapons were recovered at Ilembe Hausa area in Ajangbadi, Lagos.
Among the items recovered from the buses include 9 AK47 rifles, 2 general purpose machine guns and a rocket propel grenade launcher.
Also recovered are 225 AK47 loaded magazines and more than 10,000 live ammunition.
The police also recovered dynamites with detonator and Infinity SUV with registration number GGE 808 AE belonging to one of the suspects.
The suspects, Uche Okeagbu from Imo State, Emmanuel Ezeani from Anambra State and Chinonso Nwagwu from Enugu State, all in Southeast Nigeria, allegedly confessed that they are armed robbers.
Uche told journalists that he was not an armed robber but was arrested because his elder brother was a suspect. He said he used to see his brother with the two suspects but did not know that they were armed robbers. But police insisted Uche confessed during interrogation that he's a robber
Chinonso, according to the police, confessed to have been involved in the Diamond Bank robbery in Akure, Ondo State; UBA, Oshogbo, Osun State; GTB Okene and Sky Bank, Auchi in Edo State  and Kogi where he got a total of N2 million.
Emmanuel was also mentioned as a member of the gang who have participated in several robbery operations in the past.
According to the Lagos Police boss, Manko, the arrest of Uche led to the arrest of both Emmanuel and Chinonso.
Manko said the police were more battle-ready to combat crime in the state, adding, "We made a commitment after the last robbery incident in Lagos where some policemen lost their lives."
He said it was the determination of the police that gave rise to the arrest of the suspects. He promised to fish out the other members of the gang who are still hiding.
—Cyriacus Izuekwe & Lucky Lawal

Load more